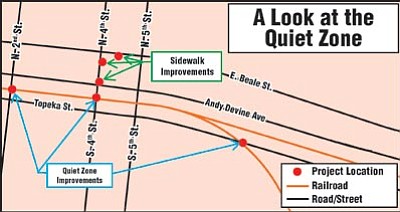 Originally Published: May 8, 2014 6:02 a.m.
KINGMAN - As of today, 99 days remain until Kingman kicks off the 2014 edition of the International Route 66 Festival. There are serious signs that plans are off track - but nobody is prepared to pull out their hair just yet.
The City Council on Tuesday did not discuss the possibility of dedicating about $50,000 from room tax funds to the festival after the Chamber of Commerce requested the item be removed from the agenda.
"The chamber didn't want to get sideways with the (Tourism Development Commission)," said City Manager John Dougherty.
Dougherty said the Chamber, which has taken the lead on festival preparations, would submit a more in-depth presentation designed to answer questions raised at a recent tourism commission meeting.
Mayor Janet Watson said the plan is to bring the issue back in about a month. Dougherty is confident sufficient time would remain to promote the festival.
That there will be a festival is not in doubt, but the man who is most responsible for bringing it to Kingman has concerns.
"The festival has issues. There's a lot of detractors who seem hell-bent on putting a stick in the spokes every time the wheel turns, but the festival will be held and it will be good," said Kingman resident Jim Hinckley, the author of several books about iconic Route 66 and a consultant to festival planners.
"To be honest, there's been good and bad, but we've missed some tremendous opportunities."
It was Hinckley who lobbied the Route 66 Alliance to choose Kingman for this year's festival, which is held in a different community along the historic highway each August.
Thousands of tourists from across the nation and the world attend the festival - last year, Joplin, Missouri played host - and Hinckley said Kingman could expect the same.
There are Route 66 associations in several countries. Hinckley said members of a Czech Republic film crew will be in Kingman for a documentary. A New Zealand tour operator has put the festival on its summer Route 66 program. Tourists from Poland, Germany, France and elsewhere are also expected. Last year, travelers in Great Britain voted Route 66 the nation's "favorite road trip."
Route 66, the so-called Mother Road, means different things to different people. Hinckley noted a number of associations will be in attendance, from veterans to motorcycle riders, from classic car enthusiasts to those who love Volkswagens.
Several events have been planned to the point they are essentially ready to go. Among them is a film festival and what Hinckley described as the largest collection of historic electric vehicles ever assembled and the first of its kind interactive Route 66 exhibit.
There are other signs that things are moving forward.
The City Council in a related matter approved its contract to build the railroad quiet zone and other downtown street and sidewalk improvements with contractor T.R. Orr. A fundraising drive that could add significant non-tax revenue might be approved in a couple of weeks.
In the meantime, a funding decision to help promote the festival could be a month away barring the scheduling of a special meeting between the chamber and the Tourism Development Commission.
Dougherty in a letter to the City Council said approving the funds in June would be "too late" to be effective, but the chamber reconsidered and decided to offer a better application to allay concerns raised by members of the tourism commission, which delayed taking action at a recent meeting due to a lack of adequate information.
While anxiety over the festival is palpable, nobody is prepared to hit the panic button just yet.
"Hopefully, this will be back in a month," said Watson. "We need more time to review."
Hinckley was equally upbeat.
"We'll be ready," he said. "There's already a lot more in place than people realize. I've never seen Kingman so unified, and that alone tells me we will succeed."