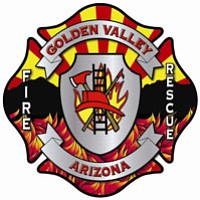 Originally Published: May 9, 2014 6 a.m.
KINGMAN - The Golden Valley Fire District is recommending that property tax rates not be raised amid an anticipated drop in appraised values.
Chief Thomas O'Donohue and Budget Committee Chair Steven Robinson presented a proposal to the committee that would leave the current rate unchanged at $2.90 per $100 valuation.
The proposal came as a result of a discussion regarding the current budget and lower valuations for the properties in Golden Valley, according to Robinson.
"This past year has been a transition period where the new Station 11 expenses, personnel changes and other changes made the budget estimates difficult to determine," Robinson stated in a release. "We have this past year's experience to better determine what our costs will be."
Robinson said the committee adjusted projected expenditures to reflect cost savings, and in consideration of continued alternate revenue sources like out-of-district contracts with the prison and utility companies.
Robinson said the district's financial reserves would allow the district to absorb $260,000 less tax revenue at this year's $2.90 rate for the upcoming fiscal year.
"The Committee was very pleased to see this proposal," O'Donohue said. "But we have concerns for the future."
O'Donohue said there has been a 68 percent drop in the overall net assessed valuation since the 2009 high of $161 million.
The total net assessed valuation this year is $52 million, he said, which represents a $139 million decrease in annual funding since that peak point.
The district also said it has managed its reserves to purchase and improve the Public Safety Training Center, build the new Station 11 servicing So-Hi Estates and U.S. 93 north of Highway 68, and also purchased several new fire apparatus.
The district also said they project carrying forward more than $2 million in reserves into the new fiscal year that begins July 1.
The district's budget committee will conclude its work Monday, in time for the preliminary budget presentation before the full Golden Valley Fire District Board meeting at 4:30 p.m. Thursday, they said.