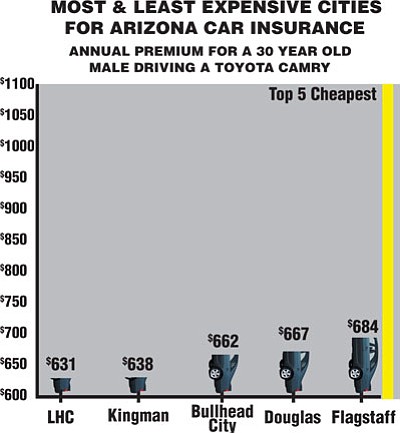 Originally Published: May 11, 2014 6 a.m.
KINGMAN - The high-desert city may be lacking in some amenities compared to the bigger cities in Arizona, but when it comes to cheap rates on car insurance, Kingman scores as second in the state.
According to ValuePenguin, a Web site that analyzes data to help consumers make good buying decisions and get the best deals for their money, Kingman comes in behind Lake Havasu City as an area with the least expensive car insurance rates. The annual average premium here was $638, compared to Lake Havasu's annual average premium of $631.
"Not living in Kingman but basing my hypothesis off the data we collected, it seems that Kingman is cheaper because it doesn't have to deal with the population density issue that many other cities do," said ValuePenguin co-founder Brian Quinn.
"And because there are less people per square mile in the city, there are fewer automobile accidents. Surely the cost of living, which is well below the U.S. average, plays a role in Kingman's rates, as well."
The study, which analyzed 47 cities in Arizona, was based on rates for a 30-year-old single male driving a Toyota Camry. He owns the vehicle, his credit is excellent and he has opted for basic coverage. In a normal year, the male drives 10,000 to 15,000 miles, primarily for commuting to work and back, and he has no accidents or traffic incidents of record in the past five years.
ValuePenguin sampled quotes from five reputable companies - GEICO, State Farm, Nationwide, California Casualty and Allstate - for that male and averaged the rates to come up with a figure for each city. According to the study, the price of car insurance is cheaper in more rural, less populated areas. Average annual rates in Arizona were found to be $806 annually, or $67 monthly.
Havasu No. 1
Of the top five cheapest locations for car insurance, Lake Havasu City's rate was 21.7 percent below the state average, Kingman's was 20.8 percent below, Bullhead City's ranked 17.8 percent lower, Douglas came in at 17.2 percent below, and Flagstaff was 15.1 percent cheaper than the state average. The 2010 U.S. Census showed Kingman's population at 28,068.
The top five most expensive locations for car insurance were Phoenix at 30.7 percent above the state average, Glendale at 30.1 percent, Tolleson ranking 24.8 percent higher, Avondale at 15.2 percent and Peoria with 14.66 percent above the state average. All are located in Maricopa County, which has almost four million residents.
Cities such as Show Low, Sedona, Winslow, Yuma, Globe, Nogales, Sahuarita, Oro Valley, Casa Grande and Tucson ranked in the center.
Angie Whiteside, an Allstate insurance agent in Kingman since 1989, said she isn't surprised at the city's ranking in comparison to the rest of the state. Car insurance rates are generally based on the number of stolen vehicles, claims and accidents in an area, among other factors, she said.
"If you're comparing us to Maricopa County, our rates are about half," said Whiteside. "People come here and think they should be even cheaper than what they are. We're not the Midwest or other areas that have those lower rates. But if you're looking at car insurance just in Arizona, our cheaper rates in Kingman are definitely a benefit to living here."
The study can be found at www.valuepenguin.com/best-cheap-car-insurance-arizona