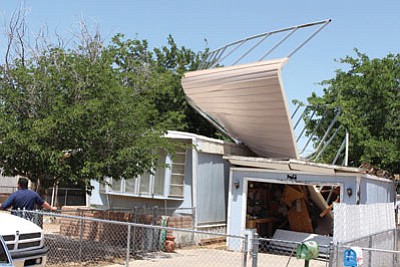 Originally Published: May 13, 2014 6 a.m.
KINGMAN - The dog at 3105 John L Ave. hasn't quit shaking since Thursday night.
That's when an unsecured carport two houses down, weighing nearly one ton and 40 feet in length, took off with a wind microburst and flew into a tree over Delmar and Phyllis Suttons' house.
It also came crashing down on their roof, as well as their neighbor Coleen Root's front porch awning.
They called the Kingman Fire Department and Mohave County Sheriff's Office, the Suttons said, who inspected the damages but said their hands were tied.
After failed attempts starting Friday to get through to emergency services, the American Red Cross and FEMA, the carport remains on the Suttons' home going on more than three days later.
It's no longer on the Roots' home, due to another burst of wind Saturday that threw it completely onto the Suttons' property, they said. Both families fear what scenario might manifest this week if the carport isn't removed - and with continued gusty winds in the forecast.
"If a heavy wind came up, it could come into the house," said Phyllis Sutton, adding that the carport is now directly above her kitchen. "It moves around when the wind blows. Our dog, he's shaking. He won't calm down. It drives me nuts."
Next door, Root's dog stands on the front porch beneath the bent front porch roof, facing the Suttons' house and barking constantly.
"It's been really windy lately, and we were worried it would flip back over and land on the house, or one of the kids, or cars," said Root.
Needless to say, said Delmar Sutton, he can't settle down, or stop worrying about what's going to happen next.
"I can't get help from nobody," he said, adding that the best response he received was to find another place to live, particularly with the carport threatening a main gas line.
"This is a worst-case scenario. They're not listening. I'm saying, 'Carport 40 feet in length.' You could be able to imagine that on a mobile house, which is not the strongest thing in the world. I'm losing it, because all of it's been going on since Thursday."
The clearest signs that something was going to be done about the nightmare on the Suttons' roof came Monday morning, when an insurance adjuster came out to the house, ensured the Suttons' had properly disconnected all the electrical and gas hazards, and then contacted a local construction contractor.
The insurance adjuster said he has never seen anything like this in Kingman before. When asked if it was typical for a roughly one-ton carport to remain on a mobile home for days, he said there appeared to be miscommunication among agencies about the Suttons' reporting of it.
Despite being told about the carport knifed into their garage and moving about in heavy winds, an impression stuck that what actually flew into their tree and home was a shed or an awning.
"It's a 40-foot carport," Delmar Sutton said, and one that can fit three vehicles. "There's nothing awning about it."