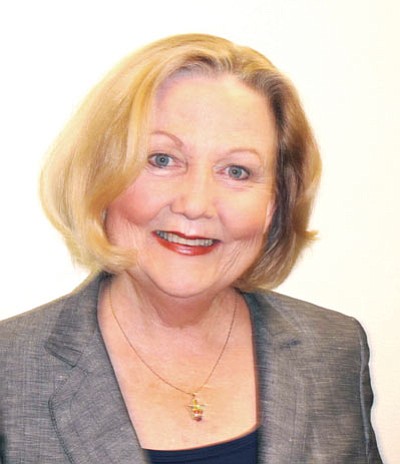 Originally Published: May 14, 2014 6 a.m.
KINGMAN - This time around, Councilwoman Jen Miles wants voters to pick her for the City Council.
Miles was one of 16 residents who applied to fill a City Council vacancy late last summer. She was appointed in early September to finish the term of Janet Watson, who became mayor when John Salem resigned mid-term.
Miles, 63, said then that her goal was to seek a full term and not serve merely as a stopgap measure.
"My intention when I submitted my application was that this would be long term," she said in a September interview. "I have to do the work."
Here's what she has learned since taking her oath of office:
Budget realities
The city's creditworthiness is of primary concern to Miles. She cited earlier projections from the city's Finance Department that the lengthy recession would take a toll on the city's reserve funds.
"The projected decline could have taken us below the level Kingman is considered creditworthy and that was a grave concern to me," she said.
The half-cent sales tax increase the city implemented July 1 has added about $500,000 to coffers, which has helped ease the anxiety level at City Hall, but Miles warns it's too early to signal the all clear.
"We're stable now and we have positive projections of slow revenue growth," said Miles. She said Finance Director Coral Loyd is a conservative steward of taxpayers' money and the reserve funds should be "adequate" for the next several years.
"Having said that, we're not out of the woods. The city still has significant issues and needs. We need an increase in public safety, roads, and infrastructure. We need to expand parks."
Rather than give the safe answer, Miles said it is unlikely the Council will be in a position to allow the half-cent sales tax to expire.
"It is scheduled to sunset," she said, "but we will likely have to continue it in order to maintain reserves."
The key issues
"The economy is always the key issue," she said. "We need job creation and we need economic diversity."
Miles said the Council and other community leaders in both the public and private sectors need to look at a host of economic elements such as manufacturing, health care, hospitality, tourism and retail.
"These sectors would all be part of a package that together grows our city, expands services and improves everyone's quality of life."
Miles' expertise is in coalition building. She has a strong history of creating partnerships between public agencies as well as public and private entities.
As manager of the Mohave County Workforce Development Division, she played a key role in the development of a mobile manufacturing training lab in a project that involved local government, Mohave Community College, private sector employers and the Kingman and Mohave Manufacturing Association (KAMMA).
Inland port
"I'm really excited with our manufacturing and industry opportunity to become an inland port," she said. "Kingman is a transportation hub. We've got trains, planes, trucks and automobiles. We have the infrastructure to support it and we have manufacturing and industrial leaders willing to make it happen. I'm very proud to advance this vision. I'm a big believer that together we can make things happen."
Miles believes that vision will take root in Kingman and when it does, jobs will come and the entire community will benefit.
"This is Kingman and we can achieve this," she said. "I've seen it over and over in this community."
Revitalization
"Things are happening downtown," she said. "People are coming out and enjoying the offerings."
Miles noted the work city crews have done in advance of the International Route 66 Festival in August. "Parks and streets have been cleaned up and you can just feel a whole new vibe downtown."
Recently, the Mohave County Board of Supervisors discussed building a new superior courthouse in the county complex and perhaps letting the city take possession of the 100-year-old downtown courthouse on Spring Street across from City Hall.
While the Council has not taken up the issue, Miles wants the building preserved - and she wants residents to have a say in the outcome.
"This is a beautiful, historic building," she said. "If the city does acquire the building we should have town hall meetings to discuss the best uses. It is a treasure to this community."
Lessons learned
"It's important to listen well to the public and also each other on the Council with as open a mind as possible," she said.
"There are multiple opinions on any given subject, but you have to stay true to the direction you believe is right."
More like this story