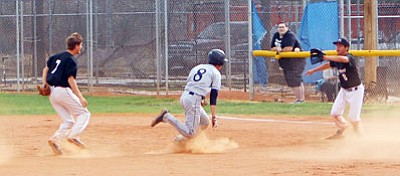 Originally Published: May 18, 2014 6 a.m.
KINGMAN - The season may have ended a few games sooner than what the Kingman Academy baseball team wanted when they lost to Page May 9 in the second round of the Division III state tournament, 8-4, but the Tigers are looking back on the season with good thoughts.
"It was a good breakout season for the AIA," KAHS coach Bill McCord said. "We came out and proved something. I think people will want to play us now that we've proven ourselves."
Academy finished the season 23-7-1 overall, including 15-5 in the regular and post seasons. The Tigers were the No. 13 seed entering the 24-team field.
"I'm pretty happy with it," the coach said. "The boys expected more from themselves, but they didn't let us down."
The Tigers have some big shoes to fill now that eight seniors are about to graduate, including ace pitcher Tarik Skubal, catcher Westin McCord and shortstop Austin Tomlinson. McCord and Tomlinson are going to Montana to play baseball for Miles Community College, and Skubal is still deciding which direction he's going to take. Skubal has offers to play for Yavapai College in Prescott, Seattle University in Washington, and there's the possibility a major league team could draft him.
"We're returning a lot of pitchers, and I do have some young kids who could challenge for positions," McCord said. "Half of our team on the field were juniors or younger, and we took more to state so they could see what the pressure is like so it won't be new to them next year."
Moving to the AIA from the Canyon (formerly Charter) Athletic Association left the door open as to what, if any, the expectations could be. A first-year statement such as this has given the squad something to hang their hats on.
"The kids were sad but got over it quick," McCord said. "It was good experience for all of them."