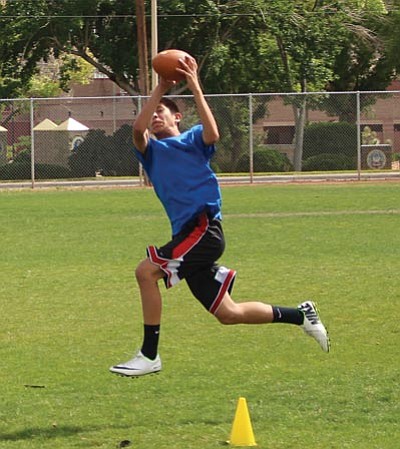 Originally Published: May 19, 2014 6 a.m.
KINGMAN - Coming off its first-ever varsity football season, the Lee Williams High Volunteers are not about to rest on the laurels of a 4-6 campaign that featured only freshmen and sophomores on the roster. During the Vols' spring football week that ended Friday, Lee Williams was all business about getting better.
"We've started working on the passing game at Lee Williams High School," said offensive coordinator Ray Smith. "It's the first time we've ever put it in. We've thrown more balls today than we did all of last year. It's the first time we've taught the linemen how to pass block."
Lee Williams had a run-heavy attack last year, and the Vols are getting excited about the prospects of becoming more balanced with the inclusion of the passing game.
"It's going to be fun," said quarterback Braxton Burgess. "I'm excited about it. We're getting better every day."
While incorporating the passing game was a big goal for the Vols this week, coach Eugene Kramer was looking at a bigger picture - the team.
"We wanted to gain some continuity on offense, review our assignments on defense and get the kids back into the swing of things as far as football fundamentals," Kramer said.
Between the passing game and Kramer's list of goals, Lee Williams came together this week.
"To be honest, I feel like the kids did a heck of a job," the coach said. "We were very crisp on offense and our secondary was crisp, too. They were well-defined in their drops and reads."
Lee Williams reported a total of 60 kids in attendance with about 50 showing up on average daily. Center Kenyon Rowley is thrilled to be back on the gridiron.
"It's been real exciting," Rowley said. "I'm glad to be back playing football."
There isn't any doubt that the Vols had a very productive week, but they don't stand pat. Lee Williams always asks how they can get better.
"We have a long way to go team-wise before we're ready for competition," Kramer said. "But it was a good week and we were able to get the kids back to being one unit, one family."
That's all true, but it didn't stop Burgess from looking forward to August.
"We've improved a lot," the quarterback said. "Next year, teams will have to look out for us."
Lee Williams has a busy summer schedule. The Vols are hosting the HSPD football clinic June 9-12 that is free of charge to all area high school football players. They'll be at a passing tournament on June 18 in Tonopah and June 20 in Glendale, and the team has several camps in the works.