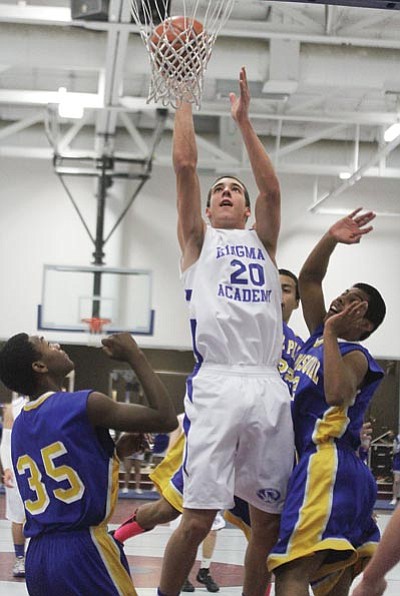 Originally Published: May 20, 2014 6 a.m.
KINGMAN - Cornerstone University (Michigan) has signed Kingman Academy High senior guard Lance Martin to play for the Golden Eagles.
Cornerstone is an NAIA Division II college that plays in the Wolverine-Hoosier Athletic Conference. It's located in Grand Rapids with a student-population of 2,100 undergraduates and 900 graduate students.
The Golden Eagles went 30-5 overall last season, including 20-2 in conference. After winning the conference tournament, CU advanced to the second round of the D-II National Championship tournament when Friends University knocked them out, 79-69.
Martin told the CU athletic department he chose the school "because of the family atmosphere and strong basketball tradition. I look forward to being a Golden Eagle."
He said he visited the school prior to the start of basketball season this year.
"I got to meet the coaches and played in front of them," Martin told the Miner. "It's big, nice and everything is pretty close. It's a great atmosphere, but I'll have to get used to the weather. It's a lot different than here."
Though Grand Rapids is nearly 2,000 miles from Kingman, Martin will be close to family. He said his grandparents live about a two-hour drive away from the school.
The 6-5 senior averaged 11 points, nine rebounds and two blocks per game for the 26-9 Tigers. He was selected to the Division III, Section 2 First Team and the Colorado River Region First Team.
"Lance is a very good player with a terrific upside," said CU coach Kim Elders, who is in his 21st season with the Golden Eagles. "We're excited about him joining our program. He has great size for a guard and can score in a lot of different ways. Lance has the ability to take the ball to the basket and finish as well as knock down perimeter shots."
CU afforded Martin a combination of scholarships. Martin is set to receive about $9,000 in academic assistance and $5,000 from an athletic scholarship.
"It's a great team and a great program," he said. "I'll fit in good there."