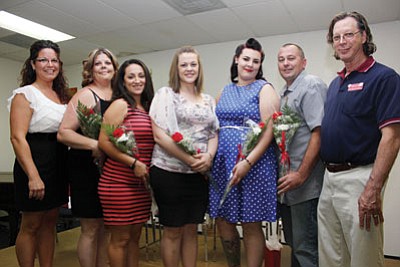 Originally Published: May 20, 2014 6:06 a.m.
LAKE HAVASU CITY - Mohave Community College awarded five surgical technology students their pins during a ceremony on May 15 on the Lake Havasu City campus, where the program is offered. The pins mark the students' completion of the program.
From Lake Havasu City, Aaron Blundell and Crystal Dean were honored during the pinning ceremony, along with Sarah Farrand of Kingman, Shylane Hernandez of Parker and Cari Horne of Needles.
Farrand said she felt "fantastic" to be completing the program, adding that she begins working immediately.
"It's such a huge relief," she said. "My clinicals were my favorite, the actual hands-on, getting to experience my job and realizing that I love it."
Surgical technologists assist in operating rooms by helping to ensure a sterile environment and assisting doctors with the surgical tools they require during procedures.
The students are the fourth class to receive the associate degree in the program. MCC first started offering a surgical technology certificate in 2002, before expanding the program to award degrees in 2010.
The demand for surgical technologists in Arizona is expected to grow by nearly 28 percent by 2020, according to a state job outlook. The average wage for a surgical technology in Mohave County is $20.91, according to 2012 state data.
For more information on MCC's surgical technology program, go to www.mohave.edu or call (866) 664-2832.
More like this story