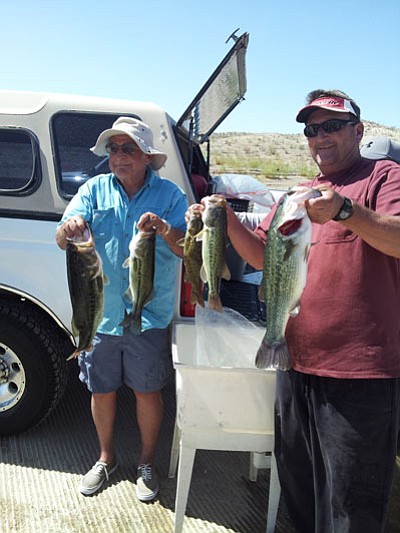 Originally Published: May 21, 2014 6:02 a.m.
KINGMAN - There are some anglers out there who just seem to "own" a particular lake and seem to always do well when they fish there.
Such is the case of the father/son team of Dave Hilton and Dave Hilton III.
These longtime members of the Kingman Bass Club seem to always be in or around the winner's circle while fishing with the KBC on Colorado River lakes, but this team is the one to beat on club tournaments that are held out of Temple Bar on Lake Mead.
Recently the KBC, which is Kingman's only bass fishing team club, held a tournament out of Temple Bar.
Many anglers/boats entered (11) so everyone knew the competition would be tight.
But it was the Hiltons who once again stole the show with a huge bag of bass.
Anchored by the largest bass caught for the tournament, a lunker that weighed 6.15 pounds, the team brought four more good fish to the scales to win with a total weight of 17.07 pounds.
Second place was won by another father/son team. Ray Scroggins and Donnie Scroggins had a great day on the water and brought in five bass that weighed 13.78 pounds. Their big fish weighed 4.19 pounds.
Third place went to Greg Parker and Eric Wolsey, who had a five-fish limit that weighed 12.55 pounds with a big fish that weighed 3.87 pounds.
Micah Jones and Luke Eggers rounded out the top four in the tournament.
Jones/ Eggers had a five-fish limit that weighed 12.22 pounds with a big fish of 3.4 pounds.
All of the bass were released alive after the weigh-in, which is the club's policy.
Each year, teams in the club vie for the coveted title of Anglers of the Year. The race for the club's top team continues to be tight.
The club holds eight tournaments a year and the top six finishes by the teams determine the winner of the club's highest award.
Currently, the Hiltons are in first place with 240.68 points. Donnie/Ray Scroggins are in second place with 206.67.
Jim and Wendy Guin are in third with 201.21 points.
The club's next tournament will be held on June 7 and is a one-day tournament out of Princess Cove on Lake Mohave.
The meeting to determine launching order will be at 6 p.m. June 4 in the Region III conference room.