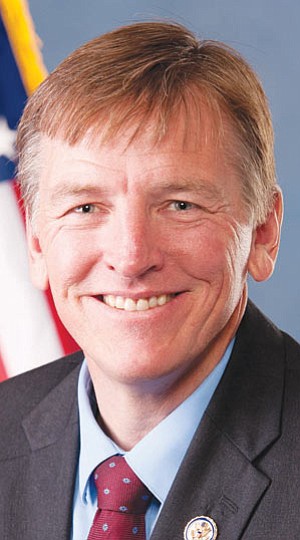 Originally Published: May 25, 2014 6:02 a.m.
KINGMAN - President Barack Obama created the largest national monument yet of his presidency Wednesday - roughly 500,000 acres in the Organ Mountains-Desert Peaks in Dona Ana County, New Mexico.
U.S. Rep. Paul A. Gosar, R-Ariz., issued a release Wednesday on the president's creation of the monument, calling it "yet another example of President Obama overstepping his authority and blatantly disregarding the rule of law."
"Congress gave presidents the ability to designate national monuments in order to protect small, specific areas of land, not large swaths of a state," Gosar stated. "It is unacceptable for a president to abuse this authority and I will do everything in my power to rein in this practice and fight this overreach."
Gosar goes on to say the monument will endanger American lives since the Border Patrol is not allowed to patrol national monument lands.
"This monument will become a safe haven for the smuggling of drugs and illegal immigrants, endangering the lives of countless people," Gosar stated. "The president's apparent disregard for the safety of this country's citizens is simply shocking."
In October 2012, New Mexico Sens. Jeff Bingaman and Tom Udall asked Obama to consider designating the area for national monument status. It was then already managed by the Bureau of Land Management, according to Udall's website.
Both senators sponsored legislation that would elevate the Rio Grande Gorge and adjacent Taos Plateau, and the Organ Mountains and other important public lands in Doña Ana County, to the conservation status.
"National monument status, similar to a National Conservation Area designation, would allow these lands and their important wildlife habitat to be protected for the future, while preserving existing uses such as hunting, fishing and grazing," reads a release issued by Udall.
Last year, the Senate Energy and Natural Resources Committee passed legislation called the Río Grande del Norte National Conservation Area Establishment Act. That bill protects approximately 236,000 acres of public land managed by the Bureau of Land Management in Taos and Río Arriba counties by designating a combination of "conservation" and "wilderness" areas.
Obama's conservation efforts pale in comparison to those of Theodore Roosevelt, who formed the United States Forestry Service in 1905 and more than tripled forest reserves in the U.S. from 43 million acres to 194 million acres, according to the National Park Service.
During his presidency, Roosevelt signed into law 18 national monuments, which included protecting large portions of the Grand Canyon, according to the NPS.
"I recognize the right and duty of this generation to develop and use the nature resources of our land," the NPS quotes Roosevelt as saying in 1910 in Osawatomie, Kan. "But I do not recognize the right to waste them, or to rob them, by wasteful use, the generations that come after us."