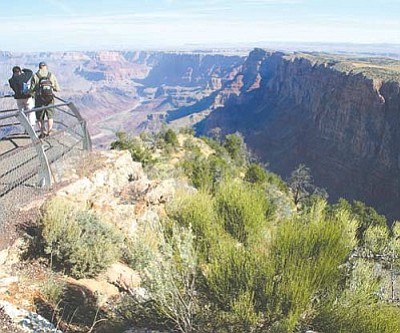 Originally Published: May 27, 2014 6 a.m.
KINGMAN - A Utah House representative who received $20,000 in campaign funds from oil, gas, nuclear, chemical, pharmaceutical, railroad and contracting companies says he wants to reduce pollution and conserve water and wildlife in the West.
At least that's what Ken Ivory told the Mohave County Board of Supervisors on May 19 when he said states should take over land in the West that's been under federal control, in some cases, even before Teddy Roosevelt was president.
And like other local and state governing bodies Ivory has campaigned to, he wants Mohave County leaders to make this a campaign issue like other western candidates during the upcoming elections.
Supervisors did not comment on Ivory's presentation. One resident offered public comment, saying federal control of public lands is more about the resources beneath them than protecting the wildlife upon them.
According to Ivory, the environment and economy will be better off if states can develop and use those currently untapped lands and resources, because the Bureau of Land Management's strategy simply isn't working.
"The wildlife and the watershed are still impaired," Ivory said, adding that there is also $100 trillion in untapped resources beneath federally controlled lands in the United States.
Ivory said there are legitimate concerns out there, such as over-development and selling off lands that would become private property and just as inaccessible as they are now under federal control.
However, he said, opening up these markets will allow local and state governments to address those issues themselves. He said he said he cares about this issue "tremendously."
"We can't afford not to do this. We have to pay for education, care for the environment, and care for the sick and poor," Ivory said. "Who better to balance those interests in Arizona, than Arizonans?"
Ivory sponsored a 2012 bill that passed in Utah petitioning for federal public lands in Utah to become state, multi-use public lands this year.
Other states are conducting studies of similar bills, including North Dakota, Nevada, Wyoming, Montana, Utah and South Carolina.
Americans share ownership of approximately 600 million acres of land and water in the United States, the vast majority of it in the West. The "public lands" include federal designations such as national parks, forests, wildlife refuges and monuments, as well as state and local areas owned by the public, according to the National Wildlife Federation.
The lands are managed by many different federal agencies for a wide variety of purposes, but the Department of the Interior and the Department of Agriculture bear most of the management responsibility.
The National Wildlife Federation works to redefine how energy development should occur on public lands in order to meet energy needs while sustaining the fish, wildlife, water resources and America's outdoor traditions, according to the NWF.
In addition to helping gain support for new public lands protections, the NWF defends special places from fragmentation and development of all kinds, such as preventing oil and gas drilling in the Arctic National Wildlife Refuge, among others.
The NWF also works to make sure important renewable energy development, such as wind and solar, is sited properly and developed in a way that sustains wildlife, according to the organization.