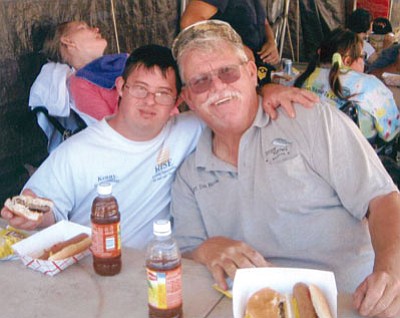 Originally Published: May 28, 2014 6 a.m.
KINGMAN - The Mohave Sportsman Club and the Kingman Elk's Lodge #468, in cooperation with the Arizona Game & Fish Department and the Dunton Fort Rock Ranch, will once again hold the annual Fishing For Smiles community youth fishing event.
Signups for the one-day event, which is free for ages 5-15, are being accepted at Bob Kay's State Farm Insurance at 2425 Hualapai Mountain Road, or at East Side Shell, 2901 East Andy Devine Avenue. Applications are also being taken at the Region III office of the Arizona Game & Fish Department at 5325 N. Stockton Hill Road.
The event is open to the first 150 kids who sign up.
Parents/guardians must sign up the kids and accompany them on to the event that runs from 7 a.m. to noon June 7 at the Dunton Fort Rock Ranch, located north of I-40 at mile post 91.
Bob Kay said that this event is a fun-filled day with free fishing, other activities and an outdoor wildlife display courtesy of the local Bureau of Land Management.
Lunch, including drinks will be provided, courtesy of the Kingman Elk's Lodge #468.
Young anglers will get to keep up to three catfish that they catch. There will be help on site to clean the fish. Over 900 pounds of hungry, hard-fighting catfish will be stocked prior to the event.
Some of the fish will be tagged, courtesy of the Arizona Game & Fish Department, and anglers who catch these fish will be allowed to pick a prize off of a table.
The Arizona Game & Fish Department will have free loaner rods available, along with bait, but anglers are invited to bring their own equipment and bait.
There will also be a limited number of new rods/reels given away to kids in need of fishing equipment.
For questions or to sign up a young angler, parents/guardians can call Kay at (928) 718-9500 or Bill Shilling at (928) 279-9201.