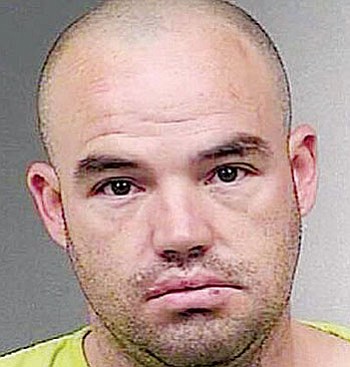 Originally Published: May 29, 2014 6 a.m.
KINGMAN - A Mohave County jury began deliberating the fate of accused murderer George Allen Loader this morning after closing arguments were held Wednesday afternoon.
The questions they have to answer are many, but the case essentially depends on which expert witness is more credible: Dr. Ernest Harman, a psychiatrist who testified for the state or Dr. Richard Lanham, a psychologist who testified for the defense.
Loader is accused of shooting John Oppenheim in the neck with a shotgun on the evening of Nov. 21, 2011, killing him. Loader then decapitated Oppenheim and dismembered his body, enlisted the help of his girlfriend to clean up the mess and went to bed. The next day, he placed the remains in a chest of drawers, loaded the chest into a family van and drove to a dirt bike track off of Bank Street at least six miles north of the Butler area.
Loader told his sister what happened. When she drove to where he said he set fire to Oppenheim's remains to confirm the story, she called police.
Loader's defense was that Oppenheim's death was accidental, that it occurred as the men were fighting in a garage at Loader's mother's home on Devlin Avenue when Oppenheim grabbed the shotgun by the barrel during the struggle and it fired as he dragged it across a tool cart.
He pleaded not guilty to the murder, but admitted he dismembered the body and pleaded guilty except insane.
Prosecutor Greg McPhillips told jurors that Loader killed Oppenheim in a rage because he believed Loader molested his 3-year-old daughter. No evidence the girl was sexually abused - or not - was found, but McPhillips clearly believes the allegation against the victim is false. Clearly, Oppenheim's relatives agree with his position.
In any event, both attorneys in their closing statements implored jurors to put faith in the doctors they called to the stand.
Lanham told jurors that Loader has two mental illnesses that played a role in Loader's actions on the day Oppenheim died: paranoid schizophrenia and dissociative personality disorder, formerly known as multiple personality disorder.
He said Loader suffered a kind of psychotic break when Oppenheim died and he dismembered the body - with a handsaw in about 10 minutes - when "Jorge," one of Loader's personalities that is apparently ruthless, took over and that Loader had no idea what he was doing was wrong.
Lanham said the mere act of dismembering Oppenheim was a sign that Loader has serious mental issues, but McPhillips said the dismemberment is evidence that Loader knew exactly what he did, that it was wrong, and that he would get in trouble if he didn't destroy the body.
While both doctors were critical of each other's reports, both agree Loader has an antisocial personality disorder. And while Lanham diagnosed Loader with other mental disorders, Harman determined he was faking his symptoms. He did find that Loader, due to extensive methamphetamine abuse that began when he was 14, has an illness called amphetamine-induced psychotic disorder, which can afflict heavy meth users. But because the disease is caused by meth abuse, it cannot be used as a defense to a crime.
The jury has several verdicts it could arrive at regarding the case. On the charge of first-degree murder, they can find Loader guilty or not guilty of that charge or they can find him guilty of second-degree murder or manslaughter.
On the abandonment of a body charge, the jury can find him guilty, not guilty, or guilty except insane.
On the misconduct involving weapons charge, the jury can find him guilty or not guilty.
Loader is an ex-felon who is prohibited from possessing weapons, but he argued it was his belief the shotgun was inoperable and therefore did not meet the legal definition of a working firearm.
Click for home delivery with comics, grocery deals, inserts, TV listings, coupons and more