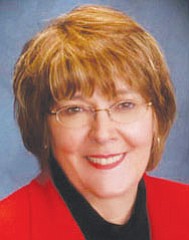 Originally Published: May 29, 2014 6 a.m.
KINGMAN - Arizona Rep. Doris Goodale, R-Kingman, announced Wednesday she will not run again this fall for her state seat and instead has asked to be appointed as a short-term replacement for Mohave County Supervisor Joy Brotherton, who died May 19 after fighting a serious blood infection.
Goodale, who lives in District 4, said she was not able to get the required number of registered voter signatures in time to file for reelection because of intense rehabilitation efforts after suffering a stroke Sept. 21 while eating lunch with her sister in Las Vegas. The deadline was 5 p.m. Wednesday at the Mohave County Elections Department.
"My priority is rehabilitating myself to be able to return to the Legislature at some point," said Goodale. "I didn't go out and campaign because I was focused on getting better. In the meantime, I love Mohave County and Arizona, and I feel that serving as a supervisor would be perfect for me right now."
Goodale took office in 2008, and her term expires Dec. 31. She would be eligible to run again for state representative in 2016. Goodale, who is in Phoenix participating in a special session of the Legislature and hopes to be home by this weekend, said she plans to remain in office until the end of the year.
Goodale joined a list of four other District 4 residents seeking nomination by the Mohave County Board of Supervisors to temporarily fill the seat vacated by Brotherton's death. The person selected would serve until Nov. 4, when the general election takes place.
Those seeking nomination by the board were Jean Bishop, Bob Boyd, Curtis Cutshaw and Ted Roper. Boyd, Cutshaw and Roper unsuccessfully ran for the office in 2011. The district includes west Kingman, Golden Valley, Oatman, Chloride, Dolan Springs, Meadview and White Hills.
Nine candidates for the two-year remainder of Brotherton's term filed the required signatures by Wednesday's deadline. They are Republicans Cutshaw, Boyd, Bishop, Al DiCicco, Bill Keller, Jack Pozenel, Travis Lingenfelter and Theodore Brinkofski. Democrat Jack Ehrhardt also filed for the office. The Republican candidates will compete in the Aug. 26 primary, and the winner will face the Democrat in the Nov. 4 general election.
"Joy was a close friend and when she died, I was devastated," said Bishop, a constable for Cerbat Precinct who also worked for the Mohave County Sheriff's office. "I want to carry on the projects she started and create my own. I've always been in the trenches. I was the people's deputy, I am the people's constable and I want to be the people's supervisor."
Mohave County Elections Director Allen Tempert said Republican candidates needed 46 signatures to file, while Democrat candidates had to have 25 signatures. A total of 267 signatures were required from Independents to file. The amount comes from a percentage of the total registered voters in a district, with Republicans and Democrats needing a half of a percent each and Independents needing 3 percent.
As of March 1, there were 9,010 registered Republican voters in District 4, said Tempert. There were 4,861 registered Democrat voters and 8,877 registered Independent voters in that district.
Learning curve
Supervisor Buster Johnson, District 3, said he had heard there were numerous candidates for the open seat and wished them well in their quest. Johnson said any of the candidates who haven't held office before will have a learning curve of about a year as they get used to the job.
"A lot of them come in with preconceived notions," said Johnson. "They don't really know what they're getting into or what's required. They're going to have to balance what their constituents want from them with what the rest of the county needs. They'll have to see the bigger picture and be able to say no to people. And they can't be afraid of criticism."
Click for home delivery with comics, grocery deals, inserts, TV listings, coupons and more