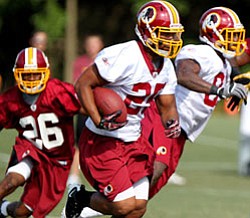 Originally Published: May 29, 2014 6 a.m.
There is a biblical verse that has always challenged me. Proverbs 18:24 says "a man who has friends must show himself friendly." In the world of sports, I understand it to mean that in no way, shape or form should sports ever offend anyone.
That brings me into the squabble surrounding the Washington, D.C. franchise of the National Football League.
The Washington football team needs to find a new mascot. There are many organizations that support Native American causes and are being outspoken about the name change, including the Navajo Nation Council, the National Congress of American Indians and the Oneida Indian Nation. These are representatives for the Native American community, and they should have the right to demand a change if a mascot disparages them in any way.
Daniel Snyder, owner of the Washington franchise, and NFL commissioner Roger Goodell cite a poll that says nine out of 10 Native Americans state that the Washington mascot is "acceptable." Goodell explained at a news conference that the mascot name "has honored Native Americans."
According to census.gov, there are 5.2 million Native Americans residing in the U.S. Even if Snyder's and Goodell's poll is correct, that leaves more than 500,000 people who are directly affected by what they consider a slur.
When NBA commissioner Adam Silver took decisive action against Los Angeles Clippers owner Donald Sterling because of his outdated views on minorities, Goodell was one of the first to praise Silver for his actions. He was eager to commend Silver, but he continues to defend the use of a term that was used back in the days when the U.S. government was conquering the West.
Snyder defends keeping the current mascot because of tradition. He says that because it has been the mascot for 82 years, the name brings with it a deep-rooted sense of tradition and pride. That is not a reason to keep a mascot that offends people.
During the evolution of our country, we have reversed course on many longstanding traditions and laws. Imagine in 1861 if this argument had been found worthy regarding slavery - would we still be known as a slave-owning country? How about in 1919 and 1920? If this had been the argument that proved to win the day, would our grandmothers, mothers, aunts and sisters be allowed to vote?
The true test to see if the Washington mascot offends people can take place right up the road on Route 66 in Peach Springs. Go have lunch at the Hualapai Lodge and enjoy some Navajo tacos. While there, be sure to call each and every Native American you meet by the Washington mascot name. And feel free to let me know how that turns out.
This brings me to a couple of conclusions. First, if I follow the NFL this season as religiously as I have in the past (Go, Cards!), am I just like Goodell? A hypocrite who talks a good talk but can't walk the walk?
Secondly, I realize this is all a backdrop as to why we haven't experienced a true first contact with other living beings in our universe. Why would beings from other planets reach out to us if all we're going to do is offend them?