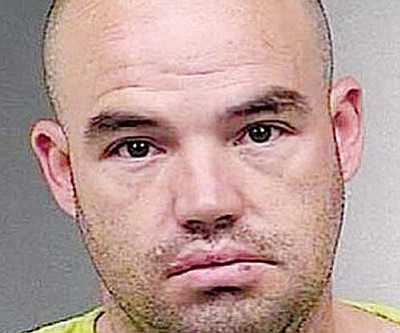 Originally Published: May 30, 2014 6 a.m.
KINGMAN - Apparently resigned to the possibility of a life spent behind bars, George Loader offered his mother a wan smile and shrugged shortly after a jury found him guilty of first-degree murder and other charges in the gruesome shotgun slaying and dismemberment of John Oppenheim on Nov. 21, 2011.
The jury spent 90 minutes before returning guilty verdicts on three counts. Loader was also convicted of abandonment of a dead body and misconduct with a weapon.
Jurors had the option to find Loader guilty of second-degree murder or manslaughter, but found Loader acted with intent - and was not the victim of severe mental illnesses that rendered him incapable of understanding the difference between right and wrong.
Specifically, jurors didn't believe Oppenheim, 51, accidentally killed himself during a fight with Loader when a loaded shotgun he grabbed by the barrel discharged into his neck. They didn't believe Loader was insane when he used a handsaw to dismember Oppenheim and burn the remains in the desert the following day before confessing to his sister, telling her he and his girlfriend, Heather Duval, had killed a man.
Duval was not charged. She told Mohave County Sheriff's detectives Loader committed the crimes and that she helped clean the garage in which they occurred, but they did not believe she played a role in the killing of Oppenheim or the dismemberment and burning of his remains.
Judge Steven Conn will sentence Loader on July 17. The judge has options on how long Loader spends in prison - but Loader's best hope is a sentence of more than 22 years. The most he can get is natural life, meaning he would never be released.
The jury also found Loader guilty of committing the murder while he was released from jail on an unrelated felony drug charge, which is a felony. That conviction will earn him an additional two-year term at his sentencing.
Also on that date, prosecutor Greg McPhillips will attempt to prove Loader has prior felony convictions, which will possibly add more time to whatever sentence Conn imposes.
Victim's family speaks out
KINGMAN - Angelique Trumble was rigid as a post when she stood for the jury. The tension in her body was electric. She offered a quiet but fervent prayer as she waited for the verdict in the trial of the man accused of killing, dismembering and burning the body of the father of her children in late November 2011.
The release came upon hearing the court clerk pronounce George Allen Loader guilty of first-degree murder. Faint sobs came from deep within her. When the tears came, they came in a rush.
Trumble attended every day of the six-day trial, along with other relatives, leaving Superior Court Judge Steven Conn's courtroom only at day's end or when the testimony became too graphic to bear.
Trumble and Oppenheim fell in love when they were teenagers and stayed together for two decades. They raised three children, who would give them six grandchildren.
"John loved to fish," Angelique Trumble said. "He loved to take his kids and grandkids fishing. That was his big thing.
"I knew John since I was 14-and-a-half years old. I knew him better than anyone else."
Savannah Trumble, their youngest child at 25, struggled to process the verdict.
"I was the biggest daddy's girl," she said in a phone interview. "He always took me fishing. He was around for me when I was younger and it was always me and him against the world."
Both mother and daughter admit Oppenheim had his demons, including an "on again, off again" drug habit that led to problems and eventually estrangement from the family.
"I can't lie," said Savannah, as she began to cry. "I hadn't talked to him for a few years and I feel so bad. I feel like I was robbed of my chance to tell him I loved him.
"It's so hard for me to know he died thinking I didn't care about him because I did. I'm still Daddy's little girl."
The family didn't learn of Oppenheim's death until sometime in January 2012, two months after George Allen Loader killed him, destroyed his body with a handsaw and burned it in the desert outside of Kingman.
Long absences were not uncommon.
"My dad was a drifter," Savannah Trumble said. "He would always disappear for a couple of months and then pop back up."
The family thought he was in Los Angeles and had no idea Oppenheim helped someone move from San Jose, Calif., to Mohave Valley. There for just days, he got into a fight and was arrested. He met Loader in jail and Loader allowed him to stay with him and his family at a home on Devlin Avenue when he was released.
About a week later, Oppenheim was dead.
Loader's sister testified Oppenheim was stranded in Kingman because his family wanted nothing to do with him, an allegation the family does not dispute - and something that has stricken all of them with a deep sense of guilt.
"We didn't want him around when he was using (drugs)," said Angelique. "But we missed him that Thanksgiving and we expected him."
While both women are "ecstatic" Loader was found guilty, they agree the knowledge of how the man called "JoJo" died continues to haunt their dreams.
"It won't bring him back," said Savannah Trumble. "I go to sleep thinking about what happened to him. It's like something you see in the movies and it hurts so much when I think about what happened to him. It's just been a real struggle for all of us to come to terms with this."
The family also wants readers to know that George Loader and his girlfriend Heather Duval were untruthful when they told law enforcement officers they believed Oppenheim had molested Loader's daughter, who was 3 at the time, an incident they said led to Oppenheim's death.
"I really wish they would admit they lied," said Savannah Trumble. "My father was not a saint, but he wasn't a child molester. He was not that kind of man and it really hurts me to think people might believe he was."
Savannah Trumble also believes Duval should have been charged, as well. Duval testified she helped Loader clean up the crime scene after Oppenheim was shot and dismembered in the garage of Loader's mother's house on Devlin Avenue.
And while the women hope Loader spends the rest of his life in prison for what he did, they say they are indebted to the man's sister, Joyce, who called law enforcement after Loader told her he and Duval killed a man.
"If it wasn't for George's sister, we'd probably still not know where he was at and I want to thank her for that," said Angelique Trumble.
"I'm grateful to George's sister," said Savannah Trumble. "My dad was not a saint, but he was a good man, a good father and we loved him very much."