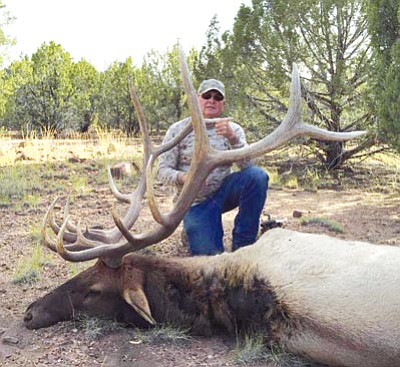 Originally Published: November 4, 2014 6 a.m.
Mike Baxter and his friends and family have hunted often for deer and elk in Unit 18A, which is located east of Kingman.
In the past 10 years, Baxter and his wife Paula and friend Charlie Brown have taken 11 bulls out of this unit.
Getting a tag has not been a problem for the Baxter family, though Mike's wife Paula seems to draw a tag about every other year.
Matter of fact, prior to this year, Paula held big bull honors of the Baxter family with a monster bull that according to Mike scored almost 370 inches.
This year the Baxter family beat the odds and Mike, Paula and Charlie Brown all drew one of the 25 tags that were offered by the AZ G&F Dept. for the multi-units of 15A, 15B and 18A.
The hunt started on Oct. 3 and ended on Oct. 16.
Though considered a rut hunt, what Baxter found was that most of the mature bulls in the unit were by themselves and were for the most part, loners.
And before the hunt ended, the trio would find out that seeing bulls in these units was not an easy task
Baxter said they saw just six bulls during their hunt, and that four of them were 6X6's that were in the 300-inch class.
Only one rag horn 5X5 bull they spotted had a few cows with him.
Baxter uses a 300 Winchester Magnum rifle and reloads his own ammunition.
He uses a very expensive rifle scope that is made by Burris - the "Eliminator."
Baxter credited this scope to his success this year.
Baxter said he regularly practices shooting out to ranges of 400-500 yards, and that the scope makes hitting the target at those ranges fairly easy.
On Day 5 of the hunt, Baxter found out just how important practicing at long range would be to his success.
Baxter noted that when they found the big bull he was all by himself on a hillside. He didn't bugle even once.
Mike decided that he would let his long-time friend, Charlie Brown, take the first shot at the bull. When Brown missed the shot, it was time for Baxter to get in the game.
"The bull was moving out pretty good when I finally got on him," Baxter said.
The range was 565 yards when he touched off a shot.
The bull was hit hard, and it didn't take long to recover him.
When they walked up to the bull there was no "ground shrinkage" with this giant.
The bull sported a beautiful rack that had 8 points on one side and 7 on the other. With huge sweeping front points, complete with a pair of "Devil's Horns" and long main beams this was indeed a bull of a lifetime. It was scored at 371-2/8 points.
During the field dressing operation, Scotty Dunton, who was helping Baxter, found that the bull had an arrow wound. Though not fatal, it was obvious that some archer had also pursued this bull during the preceding archery hunt.
Dunton estimated that the bull was at least 8 years old.
Baxter is having his trophy mounted by a taxidermist in Las Vegas.
It is the largest bull that Baxter has ever taken.