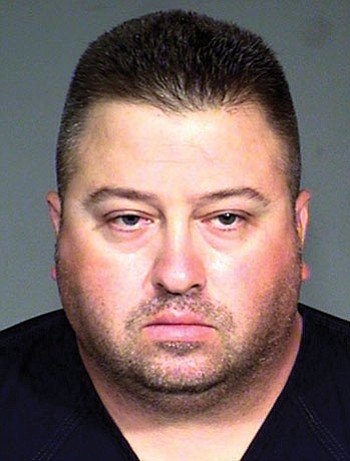 Originally Published: November 4, 2014 6 a.m.
KINGMAN - Already charged in Nevada with attempted sexual assault, a Bullhead City police officer was arrested Monday and charged with raping another woman Oct. 2.
His fellow officers took Jesse Samuel Hoag, 37, into custody when the suspended police sergeant reported to the department for routine personnel matters, said Kingman Police spokeswoman Jennifer Sochocki.
Bullhead City police asked Kingman police to investigate the Oct. 2 incident on Oct. 3. The KPD submitted the results of the investigation to the Mohave County Attorney's Office for review.
Citing a conflict of interest due to Hoag's ties to the law and order community, the Mohave County Attorney submitted the investigation to the Coconino County Attorney in Flagstaff last week. Following its review, a sexual assault warrant was issued for Hoag's arrest - his second in as many weeks.
On Oct. 22, Hoag allegedly attempted to rape a woman after the pair drank in a bar in Laughlin, Nev. He was arrested by police in Nevada and charged with attempted sexual assault.
In the Oct. 2 case 20 days earlier, the alleged victim told police that Hoag raped her after the pair drank in the same bar in Laughlin.
In that case, Hoag's roommate reportedly told police that Hoag came home sometime after 6 a.m. holding his underwear in his hands.
While the Coconino County Attorney issued Hoag's arrest warrant, Mohave County will prosecute the case. He is scheduled to make his initial appearance before Judge Derek Carlisle at 9 a.m. today.