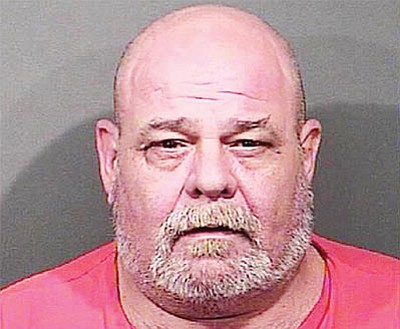 Originally Published: November 5, 2014 12:26 p.m.
GOLDEN VALLEY - A Golden Valley man who was allegedly driving impaired when he hit a Kingman motorcyclist on Oct. 23 has been indicted on manslaughter and other charges after the motorcyclist died from injuries he suffered in the crash.
Joseph Richard Baird, 52, was driving a 1996 Chevrolet east on Highway 68 near milepost 25 when he turned left into the path of 75-year-old Edward Miller, according to the Arizona Department of Public Safety.
Miller, who was riding a 2001 Honda motorcycle, was ultimately taken to a Las Vegas hospital, where he died Oct. 28.
That same day, the Mohave County Grand Jury returned an indictment on felony counts of manslaughter, two counts of aggravated assault, and three misdemeanor DUI charges.
Baird is scheduled to be arraigned at 1:30 p.m. Friday at the Mohave County jail. Judge Steven Conn was assigned the case.
According to court records, Baird was convicted of DUI in Kingman Justice Court in 2011.