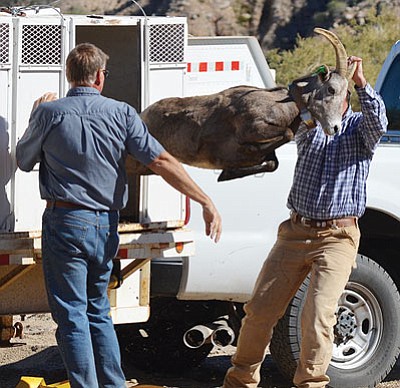 Originally Published: November 6, 2014 6:02 a.m.
KINGMAN - Forty bighorn sheep the Arizona Department of Game and Fish captured Monday in the Black Mountains west of Kingman were released Tuesday near Peoples Canyon in the Arrastra Wilderness Area located roughly 30 minutes from Wikieup.
This was the third and possibly last relocation of bighorn sheep to the area, according to Zen Mocarski, the Game and Fish Region 3 program manager in Kingman.
Mocarski said the effort is expected to restore a population that had been virtually absent for about 100 years.
Mocarski said 27 of the 40 sheep were fitted with radio collars so Game and Fish can study their movement and mortality.