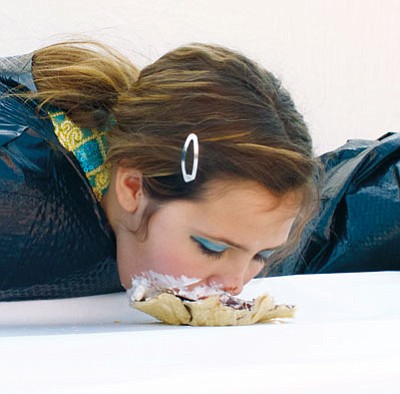 Originally Published: November 9, 2014 6 a.m.
KINGMAN - The Kingman Parks & Recreation Department hosted the 8th annual Fall Festival on Oct. 25. In the Pie-Eating Contest, ages 6-8, Carlie Barns and Andrew Stone tied for first place. Taking first for ages 9-12 was Sean Osterman. Beatriz Alvidrez was the 13-17 winner, and Larry Jones was first in the 18-plus age group.
In the Costume Contest, ages 3-4, the winners were: AJ Antibagos, Anissa Jenkins, Landon Timm, Ahmad Dejarnette, Sheila Hilderbrand, Luciano Ramirez, Alicyn Odom, Gavin Collins, and Kinsley Bahre.
For ages 5-6, winners were: Draevyn Baker, Kyptyn Pettway, Madison Schwartzkopf, Audrina Angelo, Minerva-Mae Ramos, Tanner Bosar, Ysabella Gregonis, Evan Ajero and Landin Brown.
For ages 7-8, winners were: Xavier Quintanilla, Rue Bessette, Landon Jones, Caulen Stephan, Amica Riter, Courtney Witt, Dylan Phillips, Krystiana Mauch and Kyndall Shanks.
For ages 9-12, winners were: Sarah Fiddler, Asim Moncrease, David Romero, Joshua Faucher, Ayveryona Pettway, Trinity Terleski, Ray Carter, Breeanna Lee, and Eliza Telford.
The Halloween Coloring Contest had thousands of submissions from students in kindergarten through fifth grade and three students in each of them were awarded. Those winners received items from Taco Bell and received their prizes at school.