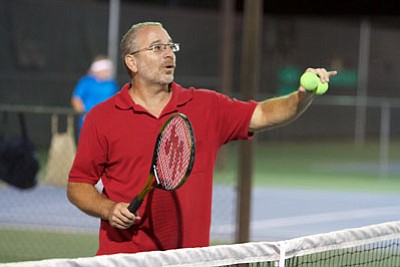 Originally Published: November 9, 2014 6 a.m.
KINGMAN - The end of 2014 may be rapidly approaching, but the Kingman Parks and Recreation Department has plenty of activities left for Kingman residents through the New Year.
Sports
Local tennis instructor Robert Pacinelli is new to Kingman and he wants to see more activity on the courts.
"I really want to build a program here," said Pacinelli. "I'm going to be here for a long time, and I really want to make it work."
Pacinelli has been playing tennis for 35 years and teaching it for 30. His resume includes playing on the professional racquetball tour (ranked No. 39 in the world at one point), coaching racquetball at the University of New Mexico, assistant coaching tennis at the University of Arizona, and trying out for the Oakland Athletics for baseball.
He said he really enjoys working with kids and watching them grow, and is excited to work with the Parks and Recreation Department to offer tennis and racquetball lessons.
The lessons are available to players of all ages and skill levels and are conducted at Centennial Park. Sessions cost $20 and include four lessons. The next session begins Tuesday, with an additional session coming in December. Participants are encouraged to sign up beforehand, but can sign up the day of the first lesson.
Times for racquetball and tennis:
Youth Lessons
(ages 8-12)
Tuesdays - 4:30 to 5:30 p.m. for tennis, 5:30 to 6:30 p.m. for racquetball.
Saturdays - 11 a.m. to noon for tennis, 9 to 10 a.m. for racquetball
Teen Lessons
(ages 13-17)
Thursdays - 4:30 to 5:30 p.m. for tennis, 5:30 to 6:30 p.m. for racquetball
Saturdays - Noon to 1 p.m. for tennis, 10 to 11 a.m. for racquetball
Adult Lessons
- Tennis Only
Tuesdays and Thursdays - 7 to 8 p.m.
•••
The youth recreational basketball league starts in January, but registration is already in full swing. Children in grades 1-6 can participate and will be divided into teams based on age, grade and gender.
Costs range from $20 for grades 1-2 to $25 for grades 3-4 and $30 for grades 5-6.
The season runs through February, with practices throughout the week and games on Saturdays at Lee Williams High School.
Registration is due by Dec. 5.
•••
The Parks and Recreation department will be holding a Pickleball demo at the tennis courts at Centennial Park on Dec 6. Rules and details will be available in the coming weeks.
•••
The Youth Sports programs are always seeking volunteer coaches, no matter the experience level. If interested, please contact Craig Ellingson at (928)692-3113 or at cellingson@cityofkingman.gov.
•••
Special Events
- Santa Claus
Christmas is still six weeks away, but registration for events throughout the holidays will begin in the coming days. Events include Santa's Calling, Letters to Santa, and Breakfast with Santa.
Santa and his elves will be giving calls to children in Kingman. Children 3 to 9 years old can sign up starting Nov. 17 to receive a call from Santa beginning on Dec. 1, with forms available at City Hall, the Parks and Recreation Department, and at local schools.
His elves will also be here to help deliver letters to Santa starting Monday and going until Dec. 5. Santa has promised to return a letter to every child who writes him during that time. Parents are asked to include a self-addressed stamped envelope with your child's letter. Letters can be dropped of at the Parks and Recreation Department or mailed to: Kingman Parks and Recreation; c/o North Pole; 3333 Harrison St.; Kingman 86409.
Finally, Santa will be in town with Mrs. Claus on Dec.13 to have breakfast at Golden Corral with everyone. Free vouchers are available at the Kingman Parks and Recreation Department starting Nov. 17, with one voucher per family needed.