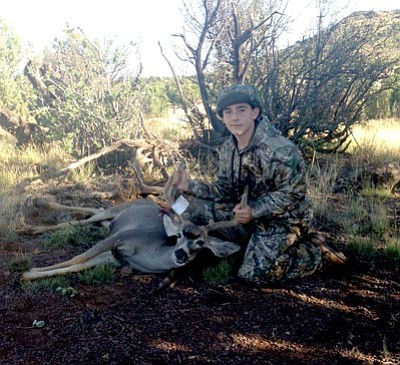 Originally Published: November 11, 2014 5:59 a.m.
As a chief hunter education instructor in Region 3, it is gratifying when I hear about our former students who have been successful on their big game hunting adventures.
Such is the case of Garrett and Hannah Martin of Kingman, who recently enjoyed a very successful hunting experience in Unit 10.
Garret, who is now 14, took my Hunter Education class in 2011. His sister Hannah, who is 11, took my class this summer. Both did extremely well in class.
Garrett was subsequently chosen to participate in an all-expenses-paid pheasant hunt at Cordes, while Hannah was the recipient of a pair of new 10X50 binoculars, courtesy of the Mohave Arms Collectors Association.
I learned that this year, Garrett and Hannah put in together for juniors-only deer tags in Unit 10.
As luck would have it, they both drew one of the 40 tags that had been issued.
With tags 34 and 35 in their pockets, they set off to participate in their first big game hunt in Arizona.
Clay and Kayla Martin are the parents. Clay really likes to hunt, and upon finding out that the kids had deer tags, a process started that would eventually result in both children taking nice bucks.
The first order of business was to make sure they had rifles capable of taking deer-size animals, while at the same time not overpowering the kids with recoil.
Garrett would use a 7mm/08 while Hannah would use a rifle in .243 caliber. Both calibers are more than sufficient for taking big game.
Trips to the range resulted in the rifles being sighted in and the kid's demonstrating their ability to keep their shots on target at ranges over 100 yards.
Then it was time to go scouting for their hunts, which would start in October.
Starting in August, the Martins went out just about every weekend scouting in their unit.
"We saw deer almost every time went out and we decided that we would hunt on the Boquillas Ranch," Clay said.
On the opening weekend of the hunt, the young hunters saw a few bucks, but they were either very small or they were out of range. But at least two of the bucks they spotted would be seen again later on during the hunt.
On Thursday night of the second weekend, Clay, Garrett and friend Rick Collins came back to the ranch and prepared to hunt.
It was cold and dark on Saturday morning when they all hiked to the top of a mountain where they would glass for deer in the junipers below. Interspersed in those juniper were a number of small open meadows.
When darkness left the mountain the glassing got intense. "We were almost ready to give up when we spotted a deer almost a mile away," Clay said.
That deer was a buck that they had seen on opening weekend, but had been unable to get close enough for a shot. The buck had been with four does the previous weekend, but now he was all alone.
It was decided that Collins would take young Garrett in on the stalk while Clay stayed behind to be the "eyes in the sky," a term that is often used to describe a person who keeps track of an animal's location while the hunter moves in.
It took a while, but soon Collins was able to see the buck and he was able to get Garrett within 200 yards of the unsuspecting deer.
The buck was standing broadside as Garrett set up for the shot.
At the shot, the 3X2, which was still in velvet, didn't go far and expired.
Garrett had bagged his first big game animal with one shot.
That evening, Hannah was brought to camp by her mother Kayla.
She was excited that her big brother had been successful on his hunt, but she couldn't wait to get into the field the next morning.
They would be joined by Clay's father-in-law, Buck Stone, and by Collins and his son Mike, who would be assisting the young hunter with the glassing duties.
An equipment malfunction of the sling on Hannah's rifle would result in her needing to use her brother's rifle that day.
Despite some serious glassing in the morning, no deer were seen.
Now, there was just a day and a half left for Hannah to hunt.
On Saturday afternoon, Lady Luck smiled on the young hunter when a lone buck with a 3x3 rack was seen about three-quarters of a mile away.
With Clay and Buck staying back as the eyes in the sky, Rick and Hannah moved in.
But this was going to prove to be a much more difficult stalk. The buck was moving and the glassers kept losing track of him.
It took a while, but finally Rick spotted the buck and got Hannah all set up to shoot.
The buck was standing about 150 yards away and offered only a front quartering shot to the young hunter. But her aim was true, and at the shot, the buck jumped and ran off.
Rick thought the shot might have missed, but her father, who was watching the action from a distance, thought it had been a hit.
Collins and Hannah were able to follow the buck's tracks as it ran through the juniper forest, and it was Hannah who found the first sign of a fatal hit.
Fifty yards later they located the buck, which had expired. The shot had indeed been true.
The young hunter was understandably excited about bagging the first big game of her young hunting career.
But more than tagging out, it was the fact that the family and friends had spent a lot of quality time together, which is really what the hunting experience is all about.
Both young hunters had been successful on their first big game hunts, and experiences and bonds that will last a lifetime were made.
It doesn't get any better than that.
More like this story