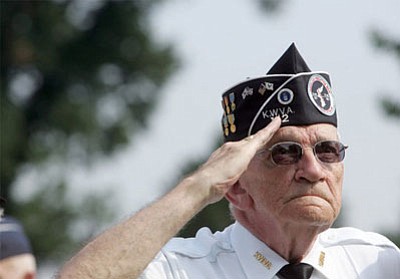 Originally Published: November 13, 2014 6 a.m.
KINGMAN - Wartime veterans, surviving spouses and health care providers are invited to attend a free seminar about a little-known benefit of the Veterans Administration.
Participants will learn about the VA's Wartime Pension and Aid & Attendance benefit, which is a guaranteed income with long-term care, during a presentation by Jackson White elder law attorneys of Mesa.
Melissa Henak, an elder care advisor for the firm and for Mohave County, will discuss the benefit that could pay enough for veterans and surviving spouses to afford assisted living or other health care options.
"The long-term care benefit available to wartime veterans is extremely under-utilized because it is under-advertised," said Henak. "The VA just doesn't talk about it. And sometimes the VA staff doesn't even know it exists, either."
The Wartime Pension benefit provides a base monthly amount for qualifying veterans who have served at least 90 consecutive days of active military duty with one day served during a wartime period.
The Aid & Attendance benefit is a supplement to the pension for those who need daily assistance with everyday living tasks. Funds also are available to assist surviving spouses.
Veterans from any war period are eligible for the pension if they qualify financially, said Henak, whether it's World War II, Korea, Vietnam or the Middle East.
Henak said the money can mean the difference between making sure they are safe and their basic needs are being met or forcing them to live in cheap motels or on the streets.
"It's frustrating to see men and women who have served their country and laid their lives on the line struggle to survive," she said. "This money really can change their lives and put long-term care within reach for them."
The VA Benefits and Long-term Care seminar will take place from 10-11:30 a.m. today, Nov. 13, 2014 at Church of Christ, 1915 Robinson Ave. in Kingman.
Call (928) 727-0689 or go to www.arizonaseniorlaw.com/resources to register.
Participants also can register at the seminar.