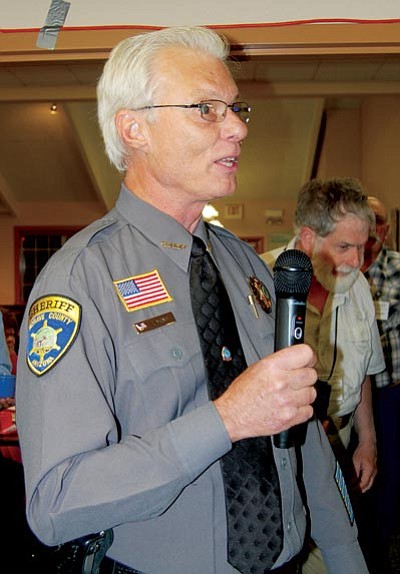 Originally Published: November 17, 2014 6 a.m.
KINGMAN - Sheriff Jim McCabe left little doubt he will seek a full term in office in two years when he addressed members of the Mohave County Republican Forum Wednesday night.
"Watch for my signs in 2016," he said.
While McCabe used a slidshow to illustrate the department's statistics, the discussion quickly turned to Colorado City.
McCabe left little doubt he considers it his top priority to clean up the infamous city on the Arizona-Utah border, home to a fundamentalist polygamist church. His disdain and frustration was apparent.
"If you haven't already heard, we put Colorado City up for sale on Craigslist last night. They've been a thorn in our side for years."
McCabe recently appeared in a news program from the Fox outlet in Phoenix regarding Colorado City. The story focused on a truck explosion that occurred there in September.
The owner of the truck is an ex-member of the Fundamentalist Church of Jesus Christ of Latter-day Saints and he blamed church members for the explosion.
McCabe said it was two 17-year-old boys who shot off thermite. When the truck's owner learned their identities, said McCabe, he no longer wanted to prosecute.
That isn't to say there are not concerns over Colorado City.
"There are a lot of problems," he said. "A lot of bad things going on."
He recalled people telling him those problems would go away when the church's leader, Warren Jeffs, was arrested on child sexual assault charges.
"We did arrest him. He got a life sentence and still sends out scripture."
McCabe said he continues to seek the decertification of the marshal's office in Colorado City, which he said is filled with people who take their marching orders from the church.
"They're bullies with guns," he said. "We're not going anywhere. We'll keep at it because we're making their life harder and we'll continue to make it harder until they decide to move somewhere else."
The Mohave County Board of Supervisors pegged McCabe to replace former Sheriff Tom Sheahan effective Aug. 1 following Sheahan's mid-term resignation. He was the former sheriff's chief deputy for nearly two decades and has been with the sheriff's office for almost 30 years.
McCabe's law enforcement career began as a volunteer member of the sheriff's Search and Rescue Unit, a job he performed on horseback for nearly five years, before he was hired as a dispatcher. Six months later he went to the police academy and was hired as a deputy. He worked his way up from there.
"We were at the hip for years," said McCabe of his relationship with Sheahan. "I'm very proud of my association with the sheriff's office all these years."
The experience gained over that time gives McCabe a realistic picture of the challenges his department faces, from perennial funding issues to the difficulty of patrolling a broad geographic boundary - 13,561 square miles. MCSO deputies patrol all but 1 percent of the land. That one percent includes the city limits of Kingman, Bullhead City and Lake Havasu City. Deputies have the responsibility for everywhere else.
The sheriff is responsible for the Mohave County jail in Kingman, which has room for 687 inmates and an average daily population of 540.
One element of the sheriff's office that isn't seen in Kingman is its waterways division, which features a dozen boats. The division is responsible for more water days than any other county in the state. In fact, all other counties combined spend less time patrolling on the water.
While stretched thin, calls have increased from about 28,000 a year in 1996 to about 60,000 in 2013.
More like this story