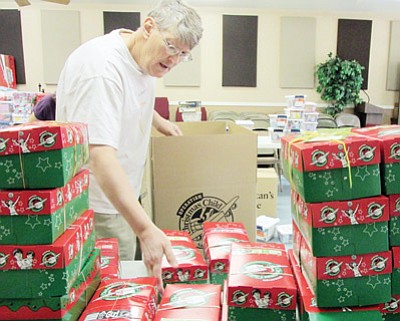 Originally Published: November 18, 2014 9:12 a.m.
KINGMAN - A blustery wind that blew off box lids and whipped volunteers' clothing couldn't extinguish the excitement Monday as the first loads of shoeboxes from area groups and churches came in to the Operation Christmas Child staging area at First Southern Baptist Church.
"We love the Lord and this outreach spreads his word of salvation to children who don't have anything," said Carolin Winn, a member of Golden Valley Baptist Church. "We look forward to participating in this every year. Each Sunday school class brought what they wanted to give to the children. We receive a blessing just by giving."
Golden Valley Baptist Church has been participating in Operation Christmas Child, an international outreach run by Franklin Graham's Samaritan's Purse in Boone, N.C., for more than 10 years. The women backed their truck up to First Southern Baptist Church Monday and unloaded 93 shoeboxes filled with toys, toiletries, games, candy and stuffed animals.
Other churches and groups followed suit, and volunteers struggled to keep up with the loads as they packed brightly colored shoeboxes into cartons bound for a processing center in Denver. Collection Coordinator Mike Baldwin said he is expecting to break last year's record of more than 3,000 boxes that were donated.
Operation Christmas Child, which began in 1993 and partners with churches and community groups, has distributed more than 100 million shoeboxes to needy children in more than 130 countries. The boxes contain new school supplies, toys, shoes, hygiene items, hard candy, clothes and a personal note from the sender. No chocolate, liquids, toy guns and knives or breakable items are allowed.
Also, the shoeboxes are handed out with a booklet called "The Greatest Gift," which presents the gospel of Jesus Christ. Recipients are encouraged to participate in a 12-week free Bible study course entitled "The Greatest Journey." Over the last four years, about 650,000 children and their families have made spiritual commitments after receiving shoeboxes and reading the booklets.
"When Jesus ascended to heaven, he commanded his disciples to take his word to the ends of the earth, and that's what we're doing here," said Baldwin. "People don't have to leave this country to be part of going to a mission field. What we're doing is making a huge difference for children who don't have anything. We're giving them hope."
More like this story