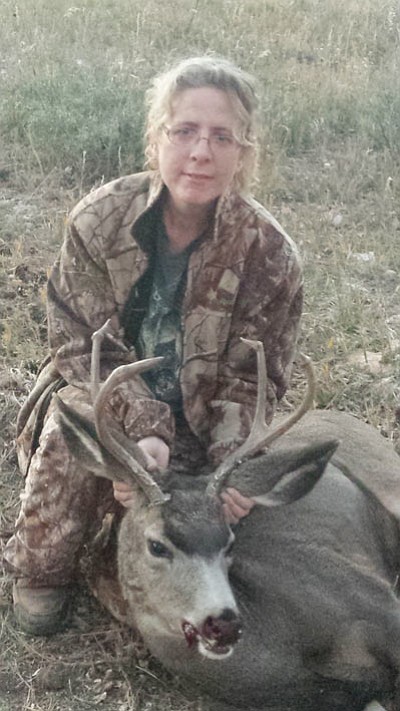 Originally Published: November 18, 2014 6 a.m.
As many of you are aware, JC Amberlyn is an accomplished artist and author, in addition to being an award-winning photojournalist for the Kingman Daily Miner.
But did you also know that she is also passionate about the great outdoors and hunting?
Recently, JC and I returned from the north Kaibab, where she had drawn one of the 500 early season deer tags there.
This was JC's first hunt on this fabled deer-hunting area, arguably one of the best in the state. I've been fortunate these past 40 years to both hunt and assist hunters on their trips to the Kaibab.
JC has gone on a few deer hunts, mostly in the Williams area, and she has just one buck to her credit, a small 2 X 2.
My hope was that she would be able to harvest another buck on her hunt. Hopefully it would be larger than her first one or it would be one that could be classified as a non-typical, a buck whose antlers sport some special features and/or extra points.
She met me in Fredonia and we headed up to an area near Big Springs where our friends, Kensen and Ruby Lee, who are from Las Vegas, had set up a camp the previous weekend.
Ruby had also drawn a tag so we decided to all camp and hunt together. Friends Eric Hawkinberry and Maynard Ely were also there.
They were there primarily to assist Ruby, but before the hunt was over, Eric and Maynard would be part of JC's hunt.
Finding deer wasn't an issue. We saw lots of them. Same with the bucks. But most were small yearling bucks; little forkies and 2X2s. While no doubt these are great eating deer, the plan was to hold out for a more mature deer.
On opening day we saw over 100 deer and nine bucks. JC got within 40 yards of another small 3X3 buck, but again I told her to wait.
Near sundown, as we were heading back to camp, we spotted a group of 9 deer that included a heavy, tall and wide 3X3 buck.
JC got out of the truck and started to get set up to take a shot at this big mature buck. But before she could get on him, a pair of other hunters drove up to within 40 yards of us and jumped out with rifles and took aim. I told them that the buck was JC's, but they commented "You gonna take all day or what?" All the activity resulted in the deer going back into the forest without a shot being fired.
Some sportsmen just don't get it when it comes to common decency and ethics.
As the days went on, we continued to see lots of deer, and bucks. But the mature bucks were still being elusive, and now JC was running out of time. Family and work were on her mind. It was time to think about putting meat in the freezer rather than antlers on the wall. The decision was made that she would take the next buck she saw.
That happened on an afternoon just before sunset on a brushy oak point. As JC came around a turn in the road, there he stood. The large fork horn buck was just 20 yards away, and looking right at us.
All I said was "buck" and JC was out of the truck and getting her rifle out of the back seat.
It was surreal. In all my years of hunting big game, I have never seen a deer stand close by while a hunter retrieved the firearm, loaded it, set up the bipod and took the shot. All I can think is that it was a case of divine intervention - the good Lord wanted JC to have meat in the freezer for her and her family and there he was.
The shot was perfect, as it should have been at that range, and the buck, which should have run off into the thick oak brush that was all around us, decided to run literally out on the two tracks and expired not 50 yards from her truck.
When I walked up I noticed something very unusual. Though the buck sported a two-point rack, on the end of each of the points was an "acorn."
This deformity is unusual. It happens when a buck injures his antlers while they are in velvet. This occurs infrequently, and I have never seen antlers where every point had an acorn on it.
JC had said she wanted either a big buck or a non-typical. While this one doesn't qualify as a big buck, I guess you can say it is a non-typical.
I wonder how many Kingman residents would like to see over 400 deer and over 40 bucks on a general deer hunt? Would you be happy filling your tag with a fork horn or maybe even a 3x3 or a 4x4?
If the answer is yes, then next year consider putting in for an early west side Kaibab deer tag.
Most of the hunters up there only stay for the first three days of the hunt.
If you want to fill your tag with a larger buck, plan on staying for a longer period of time, and make sure that you practice a lot before you start your hunt.
It is a deer hunter's paradise.