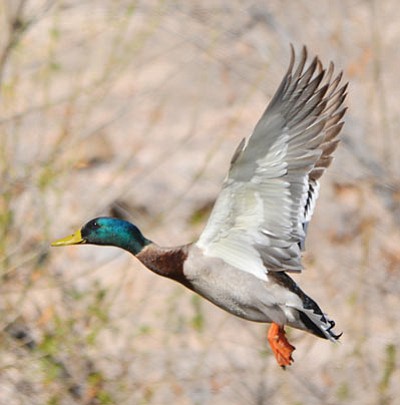 Originally Published: November 19, 2014 6:02 a.m.
KINGMAN - Young hunters can apply to attend a Youth Waterfowl Camp sponsored by the Arizona Game and Fish Department's Region 3 office in Kingman.
While the two-day camp takes place Jan. 2-4 at Pintail Slough in Golden Shores, the deadline to apply is Dec. 1.
Only 18 hunters between 12 and 17 years of age will be chosen, according to Game and Fish spokesman Zen Mocarski. No prior experience is necessary, but an adult must accompany each hunter.
Mocarski said youth will receive instructions on how to identify waterfowl, hunting techniques and how to clean the birds. The camp will conclude with an actual hunt in the Pintail Slough duck blinds.
"If you aren't getting out, you're missing out," said Game and Fish officer Brittany Oleson. "This is just a great opportunity for parents to get outside with their kids and enjoy the outdoors."
The inaugural camp was held in 2013, but problems at the Havasu National Wildlife Refuge, where the blinds are located, prompted Game and Fish not to hold one in 2014.
Those interested can obtain an application from Cierra Zach at czach@azgfd.gov, or they can call Game and Fish in Kingman at (928) 692-7700. Participants will be chosen in a random draw and those selected will be notified by email or telephone.
There are a couple of strings attached. Youth will need a hunting license to attend the free camp, and 16- and 17-year-old hunters must also have federal and state duck stamps.
A refundable $40 deposit must be included with the application to discourage no-shows, said Mocarski. The deposit will be refunded on the first day of camp or to those who cancel by Dec. 19. The names of those not selected will remain on a waiting list.