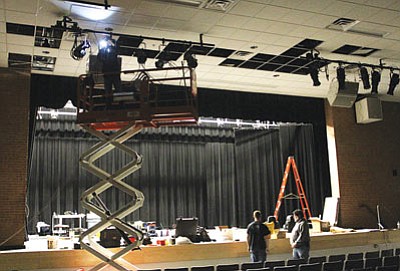 Originally Published: November 19, 2014 6 a.m.
KINGMAN - For the past year, Lee Williams High School drama teacher Sarah Kucharek has been willing to do things backward just to get by temporarily.
Instead of calling for lights and sound before the action began, Kucharek focused on providing the drama first, supplementing it as best she could with the available lighting and sound equipment in the school's original auditorium.
It hasn't been easy, but Kucharek is finally seeing light - and hearing sound - at the end of the proverbial tunnel.
By the end of this week, workers from Clearwing Productions in Phoenix will have finished installing about $200,000 worth of lighting and sound equipment at the school, which re-opened two years ago. The money for the project comes from the Western Arizona Vocational Education/Joint Technical Education District.
Because of the upgrade, audiences will be able to better see and hear the performers as they sing, dance and act at the high school. Also, the students in the school's technical theater program finally will get the hands-on experience they need to pursue careers in their chosen field, whether it's in lighting or sound.
"This is going to make my job a lot easier," said Kucharek. "We've had three productions with limited lighting and sound here, and while we were able to do them, having this new equipment will open up a world of possibilities and experiences for my cast and crew.
"They have some of the theory of running it, but they won't really know until they can see and touch and use it."
The program teaches students how to maintain lighting equipment, use lighting boards, hang and focus lighting instruments, understand color media and lighting accessories, and use lighting design software.
Also, it helps them maintain audio equipment, understand sound board operation, learn acoustic theory, use sound design and playback software, run a mixing console and understand live sound and studio recording techniques.
The lighting upgrade consists of replacing the dimmer rack, installing a front-of-house lighting system, adding fixture packages and installing a new lighting console. The audio upgrade features replacing a majority of the sound components that are currently installed and adding speakers, subwoofers and amplifiers. Also, changes are being made to the auditorium's ventilation and electrical components. Kucharek and the students will get a short training course on operating the equipment.
Kucharek said the lack of lighting in the auditorium has made it difficult to see students at the front of the stage. Also, continuous noise from the air conditioning and heating units causes sound problems.
At past productions, Kucharek has been forced to borrow lighting and sound equipment, including old hand-held spotlights, so the show could go on.