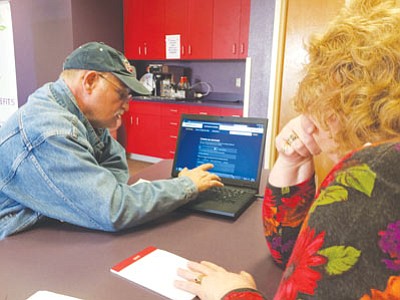 Originally Published: November 20, 2014 6 a.m.
KINGMAN - If John Perry's health problems don't kill him, his doctor bills will.
He's 58 and has suffered a couple of strokes, is now unable to work and pays $500 a month for his medications.
"I've got medical (insurance), but I can't get supplemental," Perry said Tuesday at a health insurance enrollment fair held at KRMC Medical Professional Building. "I'm on disability, so I'm a special case."
Perry was among 40 to 50 people who attended the enrollment fair and spoke with counselors from Kingman Regional Medical Center's patient financial services, as well as representatives from Health Choice Generations and Phoenix Health Plans.
KRMC counselors gave out applications for coverage under the Affordable Care Act, or Obamacare, which is open for enrollment through Feb. 15. The deadline is Dec. 15 for continued coverage from last year. Applications can be made online at HealthCare.gov.
The site had more than 1 million visitors in the first two days after enrollment opened on Nov. 15 and more than 100,000 applications were filled out, according to Health and Human Services Secretary Sylvia Mathews Burwell.
While numbers for actual enrollees are not available, the 100,000 applications at least show the system is functioning, which is an improvement from last year's launch that was bogged down by technical glitches.
The six-step application process includes personal information about yourself and your family, such as Social Security numbers; employer and income information; current health insurance policies; and information about job-related health insurance available to your family.
Jason Metcalf, director of KRMC Patient Financial Services, said three counseling stations at Tuesday's enrollment fair handled about 20 applications for Affordable Health Care. Those who are unable to apply online can come into the financial services office to sign up for coverage.
Cindy Morland, a retired state worker, said she heard costs for Obamacare coverage are going up in 2015. The price of the second-lowest silver plan, considered the benchmark by law, rose modestly in 2014.
"I don't like it. I don't think it's cost-effective," she said.
Morland is currently insured with Humana, but wanted to shop around after learning her rates are being raised. She signed up with Phoenix Health.
"They have a lower prescription and zero co-pay for your primary doctor," she said. "Even the specialist is less."
Ernie and Josephine Galbraith switched from Humana to Phoenix Health a year ago and said they've saved "tremendously" on medicine, doctor bills and X-ray costs. They renewed their policy through Phoenix.
"He told us a few things that were changing. It wasn't that much," Josephine Galbraith said. "The doctor is slightly more co-pay."
Monthly premiums under Obamacare vary according to type of plan (co-payments and deductibles), age, income and other factors. A 50-year-old male in Mohave County earning the average household income of $34,000 would pay $48 a month for the lowest-cost plan, to more than $700 a month for the most expensive plan.
Kenny Holloman spent a couple hours at the enrollment fair checking out all the plans.
He was concerned that a 1 percent increase in his monthly Social Security check would make him ineligible for coverage under the Arizona Health Care Cost Containment System (AHCCCS) unless it follows suit and raises the income ceiling.
"I'm not crazy about Obamacare, but the way I look at is Obamacare helped millions and millions of people," Holloman said. "This country needed medical change. There's too many people without medical insurance. The problem is the politicians screwed it up."