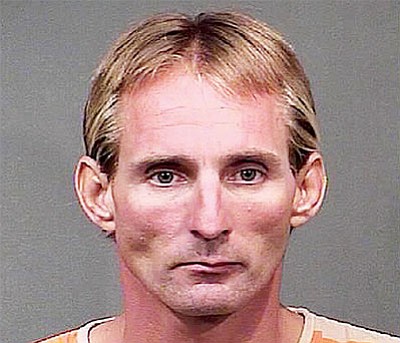 Originally Published: November 20, 2014 6:02 a.m.
KINGMAN - Defense attorney Art Higgs requested another postponement in the cases against Robert James Dodd at a hearing Wednesday.
Judge Rick Williams agreed to the request, but the hearing did lead to somewhat unexpected developments despite the delay.
Williams advised Higgs and prosecutor Rod Albright that he will no longer hear criminal cases starting in January, raising the likely possibility that Dodd's case would go to another Mohave County judge. Williams left the door open, saying he would stay on the case if both attorneys agreed to his continued involvement.
Williams also denied a request Higgs made on behalf of Dodd to move him to the Arizona Department of Corrections, where he could resume physical therapy for injuries incurred in a car accident April 22.
Dodd, 42, is accused of second-degree murder in the death of Kingman resident Linda Chevalier, 66, who was killed that day after Dodd allegedly ran a stop sign while fleeing from law enforcement officers and crashed into her car.
Higgs filed court papers seeking the transfer. Albright opposed moving Dodd, saying it was for the sake of Dodd's convenience and no other compelling reasons exists to allow the move. Dodd is currently finishing out a previous sentence for an unrelated crime.
Higgs acknowledged life is a bit more bearable in prison than it is in the Mohave County jail, but he also said Dodd is no longer receiving the medical care in the county jail that he was getting in prison. He said Dodd can't even have a cane in the jail while he could in prison.
Albright said Dodd's cases are too complicated to keep the defendant out of the loop, something he said would result in undue delays. He pointed out Chevalier's family has the right to a speedy trial.
Williams had a litany of concerns and he questioned how Higgs would keep in contact with Dodd, who faces about two-dozen felony charges in four separate cases, including a count of second-degree murder for Chevalier's death.
Williams said Higgs' request was not without precedence, but he noted the last time he permitted an inmate with a pending case to stay in prison, the inmate was Darrell Ketchner, who is currently on Arizona's death row.
Ketchner, however, had a four-person defense team, including two attorneys, and Williams was confident the team would keep in contact with Ketchner.
"This case doesn't give me that level of comfort," said Williams. He said the "gravity of the cases and their potential outcomes" made him leery of separating the defendant from his attorney.
Dodd faces decades in prison if convicted.
Williams also said Dodd is entitled to a reasonable degree of medical help, but that he's seen no indication he isn't getting that help. He agreed with Albright.
"I think this has to do with his comfort," said Williams before denying Higgs' request.
Williams set the next hearing for Dec. 16. In the meantime, Albright and Higgs will continue to work on a potential plea deal with Dodd that would resolve the four cases.