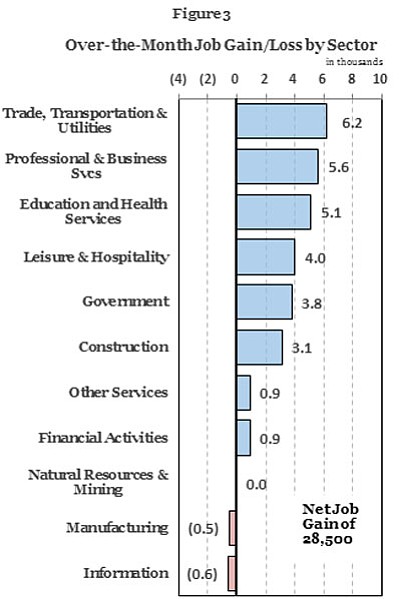 Originally Published: November 20, 2014 6:27 p.m.
KINGMAN - The seasonally adjusted unemployment rate for Lake Havasu City-Kingman metropolitan statistical area dropped to 7.6 percent in October, compared with 7.8 percent in September and 9.6 percent a year ago, the Arizona Department of Administration reported Thursday.
Mohave County's civilian workforce totaled 83,900 in October, about 100 more than the previous month, with total employment of 77,500.
Vickie Phillips, administrator at Desert Highlands Care Center in Kingman, said she advertises every week in the Daily Miner for prospective employees, particularly certified nursing assistants and licensed practical nurses.
She easily filled a position this week for driver and maintenance assistant, getting 18 applicants and narrowing the field to eight after qualification and background checks.
"The difficulty is CNAs and LPNs," Phillips said. "We do not have enough of them. We need four or five more. I don't know if there's enough nurses or CNAs in the area."
Arizona's unemployment rate decreased one-tenth of a percentage point from 6.9 percent in September to 6.8 percent in October. The U.S. unemployment rate also decreased one-tenth of a percentage to 5.8 percent in October. A year ago, Arizona had 7.8 percent unemployment and the U.S. rate was 7.2 percent.
Arizona added 28,500 nonfarm jobs (1.1 percent) in October, greater than the post-recession (2009-13) and 10-year (2004-13) average gain of 17,600 jobs and 15,800 jobs, respectively.
The private sector reported a gain of 24,700 jobs, significantly higher than the post-recession gain of 14,700 jobs and more than double the 10-year average gain of 11,700 jobs.
Gains in government (3,800 jobs) were higher than the post-recession average gain of 2,900 jobs but lower than the 10-year average gain of 4,100 jobs.
Eight of the 11 major employment sectors showed job growth in October, one reported no change and two sectors shed jobs. Trade, transportation and utilities recorded the largest monthly gain of 6,200 jobs. Professional and business services added 5,600 jobs, followed by education and health services (5,100 jobs), leisure and hospitality (4,000 jobs), government (3,800 jobs) and construction (3,100 jobs).
Sectors with smaller gains in October were other services and financial activities (900 jobs each).
Natural resources and mining was flat over the month, while manufacturing (-500) and information (-600) lost jobs.