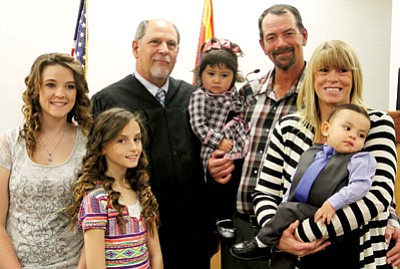 Originally Published: November 23, 2014 6 a.m.
KINGMAN - Smiles, laughter, jokes, fidgeting children and colorful balloons filled a usually somber and hushed Mohave County Superior Court room Saturday as foster children and parents prepared to tie the adoption knot.
Five Mohave County families with seven foster children waited to appear before Superior Court Judge Richard Weiss, who hears child welfare and dependency cases in Kingman. The gathering was part of National Adoption Day, a nationwide effort to raise awareness of the more than 100,000 foster children seeking permanent homes.
Kingman residents Walter and Christine Davis were there with Olivia, 15 months old, who has been in their care since she was removed from an unsafe home environment when she was nine days old. The couple also adopted 14-month-old Travis in July, and sisters Jazmine, 12, and Elizabeth, 15, in 2006.
"I always knew I was meant to be a mother, but we had difficulty having children," said Christine, 46, who has been married to Walter, 45, for 21 years. "I believe that difficulty led us down this path. These adoptions have fulfilled a lifelong dream for us. We've always wanted a big family and thought it would never happen."
Adopting foster children gives them stability, lots of love and an understanding that they really belong to a family, said Walter. And it gives the new parents a sense of accomplishment and satisfaction because they know they helped children who need a fresh start in life.
Weiss welcomed the families and thanked them for being willing to permanently open their homes to the children entrusted to their care. After the proceedings, the children ate a cake made in their honor, and received stuffed animals, a wrapped present and goody bags.
"I think this event is a wonderful thing," said Weiss. "Across the U.S., courts are convening today to give these families the stability and permanency they need. This is a huge day for all of you and I'm glad to be a part of it. Life has been a real struggle for some of these kids and it's very important to provide this closure for them."
Raymond and Jennie Cornelia of Mohave Valley attended the ceremony to adopt three siblings they have cared for about a year and a half. They are Jonathan, 7, and twins Julia and Joey, both 3 years old. Jonathan is diabetic and takes four insulin shots a day, and his biological mother was involved with drugs and couldn't handle the children.
Raymond, 51, and Jennie, 49, have been married 14 years and have two biological children together, Tiffany, 14, and Tristen, 10, as well as another adopted daughter, Alyssa, 2.
"I'm glad we're adopting the kids because it has completed our family," said Jennie. "It gives them the love and the permanency they need. It especially means a lot to Jonathan to have a forever home. And it's exciting for the adoption to take place on National Adoption Day, which makes it a special occasion for all of us."
Jonathan agreed, adding, "I feel good today because it's my adoption day and I get to stay with my parents forever."
Click for home delivery with comics, grocery deals, inserts, TV listings, coupons and more