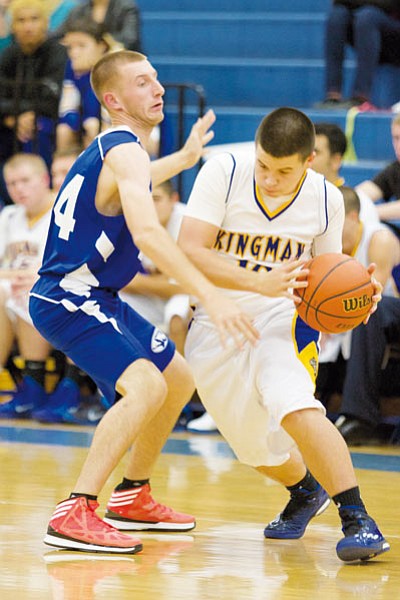 Originally Published: November 26, 2014 6 a.m.
KINGMAN - Transition points came by the bucketful in the second quarter for the Kingman Academy boys basketball team in Monday's season opener at Kingman. The Tigers outscored KHS 30-9 in the stanza en route to a 60-27 win over the Bulldogs.
Senior Chris Pfeiffer scored seven of his 10 points in the second quarter for the Academy.
"The second quarter was all about teamwork, ball movement and player movement creating open shots," the 6-foot-7-inch center said. "And we had players come off the bench and hit 3s for us."
Nearing the end of the first half, sophomore Cade Martin hit two 3-pointers and Will Herbine added another as the Tigers pulled away.
Senior point guard Henry Chinyere scored a game-high 13 points. Robby Glass, Breyden Potter, Jeffry Chinyere and Martin all finished with six points each.
The Tigers led 12-5 at the end of the first quarter before putting the game away in the second. Academy coach Bryant Morrison was satisfied with how his squad opened the season.
"Not bad," he said. "Our communication has improved a lot on defense from last year. We did well playing together as a team. I can take someone out and not worry about the offense."
Herbine finished with five points for the Academy. Caleb Boyett added four, and P.J. Homer and T.J. Pena each added two.
Kingman's first-game assessment wasn't nearly as satisfying for coach Ron Anthony.
"We got outrebounded, we turned the ball over, and we shot terribly," he said. "That's what killed us."
Ethan Adams led Kingman with five points. Tanner Cardiff and Austin Crisil each added four.
"We didn't hustle back at the end of the second quarter and contest those 3s," Anthony said. "We can't afford to do that, especially against a team as balanced as the Academy is."
Andrew Plummer and T.J. Sherman both scored three for Kingman. Jacob Cave, Mitchell Lambert, Abraham Ruelas and Casey Smith each had two.
"I am proud of my boys. They did hustle their butts," Anthony said. "We will get better."
Kingman played Mohave Tuesday in Bullhead City. Results were not available by deadline. The Academy has a week to prepare for Coconino in Flagstaff at 7 p.m. Monday.