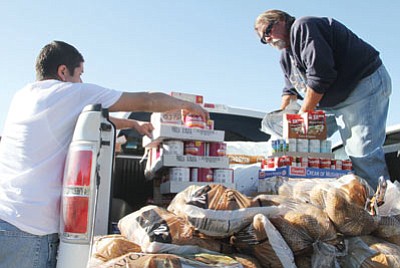 Originally Published: November 26, 2014 6 a.m.
KINGMAN - Every holiday season, Nancy Osborn is touched by the local community's charitable spirit and generosity.
As Northern Arizona coordinator for Mentally Ill Kids in Distress, or MIKID, Osborne takes responsibility for organizing the annual fundraiser with Denny's restaurant that provides Thanksgiving food baskets for qualifying families.
Osborn's goal this year was to raise $3,000 from three nights of volunteers from the Golden Valley Fire Department serving dinner at Denny's at 3255 E. Andy Devine Ave., which would put food on the table for about 50 families and 200 kids.
Denny's served between 750 and 800 dinners each night, and while donations fell a little short of the goal, they were enough to fill 47 food baskets. Walmart gave MIKID a 10 percent discount and packed boxes with turkey, potatoes, pies, milk, butter and bread.
"Doing a meal is nice, but what we're able to provide with everybody's efforts is to pretty much feed a family for a week with all of the leftovers," Osborn said. "We're so small and the people are amazing. Someone bought a turkey for $100 and gave it back. People thank me for doing what we're doing and filling up a good cause."
Denny's is "just amazing" and a pleasure to have as a partner, she added. It's the seventh year Denny's has worked with MIKID, Denny's general manager James Newton said. The restaurant also collected raffle items for the fundraiser.
MIKID, founded in 1987 in Phoenix, provides support for parents of children with special needs. They may need a babysitter while they go grocery shopping, or a volunteer may take the kids to the park to give parents some rest and relief, Osborn said.
The organization also helps "connect" families of similar circumstances and educates them on community resources and how to navigate the mental health system.
Turkey Tuesday
Volunteers from The Society of St. Vincent de Paul dressed in costumes with feathers as they solicited nonperishable food items and monetary donations on "Turkey Tuesday" at Bashas' market, 3360 E. Andy Devine Ave. Their goal is to put together complete meals for 100 families on Christmas.
"It's been a little meager," said Paulette Dollarhide, one of the managers for St. Vincent de Paul in Kingman. "Before the recession, we'd get 130 to 160 turkeys and then we would share them with Dolan Springs, a really poverty-stricken area. This year, we partnered with Dolan down the middle."
Turkey Tuesday is a "big deal" in Phoenix as radio stations hold contests with prizes for the most donations, Dollarhide said. Past response was so overwhelming that Phoenix began sharing its overage with rural communities.
She brought the program to Kingman 13 years ago. It's the largest one-day turkey drive in the nation and has become a Thanksgiving tradition for Arizona families, schools and businesses.
"Our goal is to gather as many turkeys as possible," Dollarhide said. "We want bountiful meals on the table for Christmas and Bashas' graciously accepted our presence. We can be loud and raucous."
Christmas Child
The 350-member congregation at College Baptist Church filled nearly 400 shoeboxes with personal items and small toys to be delivered to underprivileged children around the world as part of Operation Christmas Child.
Kids in the United States want the latest PlayStation and video games for Christmas, while children in 130 countries served by Operation Christmas Child will be happy to get a toothbrush, bar of soap and washcloth, said Pat Cardiff, coordinator for the church.
"It's about needs, not wants," she said. "Do you truly think if I hand a shoebox to a U.S. child that has soap and a washcloth, do you think they'd appreciate just their needs? I don't think so."
Some of these children will be receiving Christmas gifts for the first time, she added.
Along with personal items, the shoeboxes contain small toys such as balls, yo-yos and jump ropes. College Baptist Church had a sewing day and made drawstring bags to put in the shoeboxes.
Cardiff said nonmembers of church contributed $900 in offerings during Vacation Bible School to help pay for postage cost, which is about $7 a box.
Operation Christmas Child, founded by Boone, N.C.-based Samaritan's Purse, has delivered more than 113 million shoeboxes to children since 1993.
Clothe the Kids
The Kingman Powerhouse Kiwanis Club holds its 18th annual CODE 3-Clothe the Kids fundraiser on Dec. 13 at Walmart, 3396 Stockton Hill Road, and Kmart, 3340 E. Andy Devine Ave.
Every dollar raised during the event goes toward purchasing winter coats, clothes, socks and underwear for needy children in the community.
Kiwanis volunteers take the children shopping, and all fundraising and administrative work is handled by the club, said Marcia Beecham, president of Kiwanis. She started the event 18 years ago.
"Our club takes great efforts in making this shopping trip a very special event in the lives of the impoverished children at this holiday time," she said.
Kingman police and fire departments volunteer their resources to bring Santa Claus to the stores by helicopter. They also provide a police and fire truck escort for school buses transporting the children to the store, with sirens and lights, or CODE 3.
"The children are very excited. They feel very special receiving all that attention and it is a wonderful boost to their self-esteem," Beecham said.
Kiwanis will be shopping for 400 to 450 children this year, spending about $100 on the older kids and $30 on those ages 4 and under, she said.
Donations can be made to Powerhouse Kiwanis, PO Box 3393, Kingman, AZ., 84002.