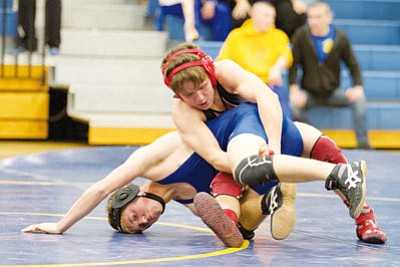 Originally Published: November 27, 2014 6:02 a.m.
KINGMAN - Junior Desirae Gonzalez poured in 40 points to lead the Kingman High Lady Bulldogs to a 65-17 season-opening win Monday at Kingman Academy.
The Lady Bulldogs held an 18-6 lead at the end of the first quarter and extended it to 41-11 by halftime.
Cheri Roundy added nine points for Kingman (1-0). Carly Lawrence scored eight, Courtney Mossor seven and Nickole Garcia two in the win.
Game stats from Kingman Academy (0-1) were not available.
Kingman hosted Mohave in its home opener Tuesday. Results were not available by deadline. The Lady Tigers next play at 7 p.m. Tuesday at River Valley (1-0).
Lady Vols falter in first varsity game
The Lee Williams Lady Volunteers held a 14-7 lead at halftime over River Valley Monday at LWHS in the first-ever varsity contest for the program.
However, the Dust Devils outscored Lee Williams (0-1) in the second half 24-13 to pull out a 31-27 win.
Madison Arave led the Lady Vols with 11 points. Jackie Millim added seven.
Lee Williams returns to action at 7 p.m. Tuesday at Lake Havasu.
KHS kickers edge Parker
Kingman 3, Parker 2
The Kingman High boys soccer team opened the season with a 3-2 win over Parker on Monday at KHS, with Manuel Tadeo scoring twice and Taylor Ferrin getting one past the goalkeeper on a penalty kick.
Goalkeeper Eric Venenga stopped 10 shots on goal, including a penalty kick. One penalty kick did get by him, and the other Parker goal squirted out of a crowd of nine players in front of the net.
LWHS grapplers split in three-way
The Volunteers split Monday afternoon's three-way with Northland Prep and host Kingman. Lee Williams defeated Northland 54-21.
"Other than giving up three weight classes with forfeits, we wrestled very well for the first match of the season," said LWHS coach Thomas Jonseck.
Lee Williams had five pins in the win.
In the battle of Kingman, it was the Bulldogs powering past the Vols, 45-27. Heading into the last three matches, it was all tied at 27-27. Kingman wrapped it up with three consecutive pins.
"To be honest, it could have gone the other way," Jonseck said. "Not having all our starters hurt us."