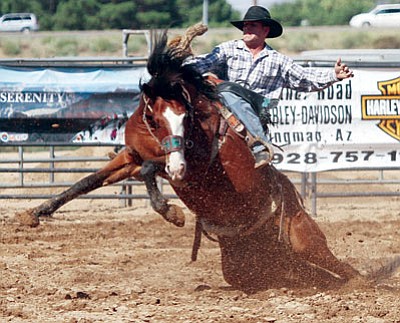 Originally Published: November 30, 2014 6 a.m.
KINGMAN - From ADA-compliant restrooms along the midway to batting cages somewhere in the outlying area, the Mohave County Fair Association has a prioritized list of 39 projects to improve the 68-acre county fairgrounds.
Fairgrounds manager James Guillot said he's signing a contract this week with Canyon State Enterprises of Kingman to start work on the restrooms at a cost of $44,642. The scope of work includes materials and labor to build 24-foot-by-28-foot restrooms with two ADA stalls, five standard toilets, three urinals and four sinks.
Getting to the other 38 projects is simply a matter of funding, Guillot said Wednesday during an interview at the fair association office.
"We're trying to make projects happen. We take care of things as we go, but we're one Mohave County Fair away from bankruptcy," he said. "It's going to take time unless one of us wins the Powerball."
A lot of things need fixing at the fairgrounds, Guillot noted. The facilities are old and the plumbing has deteriorated. Electrical upgrades are needed for sound and lighting. Fences and gates need to be painted or replaced. The kitchen should be upgraded.
Pressure
Mohave County Fair Association has come under pressure from the board of supervisors to improve the grounds it leases for $1 a year. The board had allocated $25,000 a year for upkeep and maintenance of the fairgrounds, but ceased funding three years ago because of what Supervisor Gary Watson called "lollygagging" by fair board directors, saying they're going to do this and that and never getting around to it.
"Come to find out the $25,000 went into a long-term investment account and now they have about $200,000 in the account," Watson said. "I think it's unfair to sit on $200,000 without doing anything. I don't know what else I could say to create an urgency to get things done. We're hopeful they'll spend some of that $200,000 on improvements for the fairgrounds."
Charles Cox, chairman of the Mohave County Fair Association, made no apologies for stockpiling the money.
"We need six months of operating capital to pay the bills," he said. "We dipped into that fund for the ADA restrooms."
County supervisors approved a $50,000 matching grant last year to upgrade the rodeo arena. All they wanted to see was a business plan from the fair board, Watson said.
Supervisors received the plan in March outlining the fair board's administration, mission, improvement projects, funding and events. It lacked financial accountability, a definite goal and a timetable to achieve that goal, Watson said.
Cox said the fair association is doing the best it can with what it's got.
The fairgrounds has supported itself for 30 years and generates an estimated $15.5 million annual economic impact for the county, including $139,000 in taxes and 276 jobs, according to a February 2012 study prepared by University of Arizona's Mohave County Cooperative Extension.
More than 61,000 people attended events held at the fairgrounds in 2011, generating $8.15 million in direct spending. Visitors and vendors accounted for 8,200 room nights at Kingman area motels.
'We can do that'
Cox said the 11-member board of directors has adopted an attitude of "Yes, we can," when it comes to accommodating events for community organizations and special interest groups such as gun shows, craft fairs and motor sports.
"You want to rent this facility to display women's shoes, we can do that," Cox said.
Mohave County Fairgrounds expanded its schedule to 75 paid events in 2014, compared with 60 paid events last year and 28 paid events in 2012. The main event is the Mohave County Fair, which was held Sept. 11-14. There's also the PRCA Rodeo, part of Andy Devine Days in late September.
Some of this year's additions include the Emmanuel Christian Academy Carnival in February, Extreme Bull Riding in May, and the Paul Evert RV Show in May and July.
The fairgrounds are also used for an equal number of nonpaying events such as weekly BMX races, 4-H horse practice, 4-H small stock clinic, 4-H weigh-ins, 4-H Gymkhana and Rodeo Days queen practice.
Who has to pay?
It's a fine line between who pays and who doesn't, Cox said. He gave into the Rotaract Club Route 66 Trailblazers this year for their Halloween haunted house.
"We've got to pay our bills too," he said. "You want to raise money for an altruistic venture. We're altruistic, but we have to pay our bills anyway."
"We're made out to look like the bad guys," Guillot added. "We want to make this facility open to everyone."
He's entertaining the idea of drive-in movies at the fairgrounds. More than 300 carloads of people showed up for "Despicable Me" during the International Route 66 Festival in August, but it was a still a money-loser, Guillot said. It cost $3,400 to rent the movie screen and projector equipment, while ticket prices were held drastically low at $5 a car.
He's going to increase the price to $10 a carload for the Dec. 13 showing of "Polar Express." If the drive-in movies prove successful, the fairgrounds association may look into purchasing equipment for the long term.
Supervisor Jean Bishop said the fair association has done a nice job of cleaning up the fairgrounds property, clearing it of weeds and making a few improvements, but she'd like to see something more attractive to motorists passing on Interstate 40.
"Maybe a new face to the building," she suggested.
Watson said he'd like to see another grandstand built in the northeast corner of the fairgrounds and a new kitchen facility.
"Believe me, we wish them well," Watson said. "We're just anxious to get something going. What we could really use there is a convention center. It's a large investment, but it's doable."
Click for home delivery with comics, grocery deals, inserts, TV listings, coupons and more