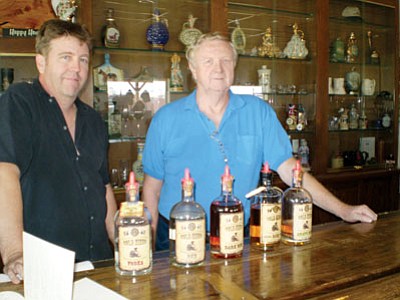 Originally Published: October 1, 2014 6 a.m.
KINGMAN - A new liquor law that took effect in August will help Desert Diamond Distillery and other craft distilleries in Arizona get the exposure and marketing needed to build demand for their product, owner John Patt said Wednesday.
Senate Bill 1397, the omnibus liquor law signed by Gov. Jan Brewer in May, contains a number of provisions that will allow Patt to increase sales of rum, vodka and other spirits aging in more than 60 barrels at his 7,000-square-foot distillery at Kingman Airport and Industrial Park.
Desert Diamond Distillery has always been able to sell bottles of booze directly to customers for consumption off the premise, but now it can serve patrons on the premise by the glass and charge them.
Prior to the new law, customers could sample liquor at the distillery, but it had to be straight, or "neat," not mixed.
"A lot of people don't like their spirits straight, so now they'll be able to experience our spirits through their favorite cocktails," Pratt said.
Another big change in the law for Pratt is the ability to sample and sell at festivals.
"Wineries have always been able to go to festivals and sell their wine and at least recoup some of their expenses on the road," he said.
Distillers are also allowed to have remote tasting rooms, or tasting rooms away from the distillery, which is nice because they can hit different markets, Patt said. Desert Diamond Distillery draws a lot of customers from Mohave County, Southern California and Las Vegas, but can now tap into Phoenix and Tucson.
"It's all about exposure," Patt said.
Microdistilleries cannot produce more than 20,000 gallons of spirits a year under the law. They can self-distribute up to 1,189 gallons distilled on their premise each year.
Desert Diamond Distillery, established in 2010 and the oldest microdistillery in Arizona, is far under those thresholds, said Patt, who owns the distillery with his father, Peter.
D3 spirits are distributed by Young's Market Co. of Phoenix to restaurants, bars and liquor stores throughout the state. They can be found at Little Brown Jug liquor store and Tack Shed tavern in Kingman, among other businesses.
Patt worked closely with other licensees and distributors in making changes to the liquor law that will be beneficial to the industry. It's going to help take Desert Diamond Distillery from its "infantile stage" to something people will recognize, he said.
"The more exposure we get, the more demand there is for our product. It works from a three-tiered system: the manufacturer, the distributor and the retailer. By allowing us these marketing tools, we can create demand for our product," he said.
The world of craft distillers, or "artisans," as Patt calls them, overlaps from wineries to microbreweries to microdistilleries and laws are different and separate for all of them.
"It's a passion I kind of wrangled everyone into," Patt said of the family-owned business. "We just fell in love with the concept. It's really an experiment to show what you can do with different libations."