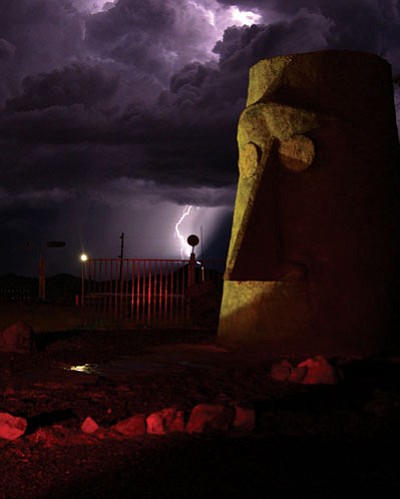 Originally Published: October 1, 2014 6 a.m.
KINGMAN - While it may have seemed like the rain would never end this summer, the 2014 monsoon season and its associated flooding has officially come to a close.
The annual season, which began June 15 and ended Sept. 30, brought increased rainfall to Mohave County, although the amount paled in comparison to other areas covered by the National Weather Service in Las Vegas. Mohave County recorded 100 to 200 percent above what it normally receives during the season.
On the other hand, said NWS meteorologist Chris Outler, Lake Havasu City and Needles, Calif., both registered well over 200 percent above normal and were hit by several big storms. And Phoenix ranked even higher, with rainfall measuring 250 to 300 percent above normal for the season.
"We anticipated a slightly better monsoon season this time, but it's variable every year and each season is different," said Outler. "The state as a whole did pretty well this time and fared above normal in rainfall."
Outler said Mohave County was dry in June, which isn't unusual, and received 1.25 inches of rain in July, or a half-inch above normal.
In August, the county recorded 2.05 inches, or 1.08 inches above normal.
A total of 1.53 inches fell in September through the 26th, or one-half inch above normal.
Phoenix, on the other hand, was swamped by the remnants of Tropical Storm Norbert on Sept. 8.
Sections of freeways were flooded and that sent rescuers scrambling to aid stranded motorists.
Two people in southern Arizona died when they were swept away by rushing water.
Outler said the monsoon season is caused by the annual shift of winds from westerly to southerly that blow moisture in from the Gulf of Mexico, Gulf of California and eastern Pacific waters. The more the winds blow, said Outler, the more it rains inland.
"Now it looks like the rain is over," said Outler. "That's not to say that there can't be anymore storms, because there will be.
"But the winds have shifted back to westerly and the monsoon season is gone."
Click for home delivery with comics, grocery deals, inserts, TV listings, coupons and more