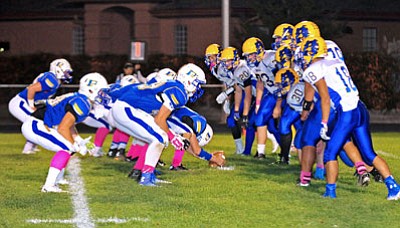 Originally Published: October 5, 2014 6 a.m.
PRESCOTT - When Kingman High's Jacob Ford stood on the 50-yard line for the 10th time on the kickoff-return team Friday in Prescott, the whole stadium could hear him yell," Let's go, Dawgs!"
Despite losing its seventh consecutive game to start the season, the Bulldogs refuse to back down.
"We were down 58-0 and still had enough in us to break their streak of 18 consecutive quarters without a allowing a touchdown," said KHS coach Greg Tonjes. "We scored and we celebrated. That's the personality, mindset and emotion we're instilling here. We don't quit."
Kingman gave some glimmer of hope early in the game by keeping Prescott (5-1, 2-0) from moving the ball. However, the Badgers got things rolling with two touchdowns by the end of the first quarter and tagged on another 30 points in the second to lead at the half, 44-0.
The Bulldogs entered the game with a depleted roster of less than 25 players (in contrast, the hosts suited up roughly twice as many players), and they lost more. Erik Pichardo left the game in an ambulance with a neck injury. He did return to the stadium with a severely pinched nerve and is out for the season. Josh Patterson is out for the remainder because he's suffered several concussions. Abraham Ruelas left the game with a concussion from a hard hit to the head, and Jose Moreno has an issue with his right arm and there's no telling how long he'll be out.
Quarterback Daniel Williford scored Kingman's only touchdown with six minutes left in the game on a 23-yard touchdown run that ended with him being upended head-over-heels into the end zone. Williford completed a pass to Maurice Longmire for the two-point conversion.
"I could sit on a 34-0 game, run the clock and make it look a little closer," Tonjes said. "But that would be quitting, and I'm not going to do that. I'm going to do everything we try to do and keep fighting."
As the lopsided losses mount, the Bulldogs are gaining character.
"A loss is a loss and it's painful," Tonjes said. "They need to feel the pain of these losses. In order to become a winner, you have to dislike losing more than anything."
Kingman hosts Division II's No. 14-ranked Paradise Valley (4-1) in a non-section game at 7 p.m. Friday.