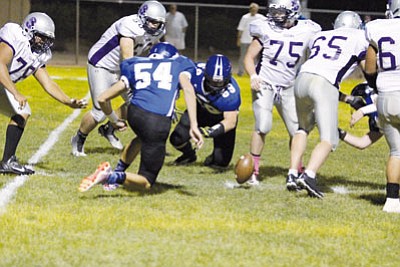 Originally Published: October 5, 2014 6 a.m.
KINGMAN - Senior linebacker Ethan Tibbetts intercepted Sedona Red Rock's Derrick Johnson and returned it 70 yards for the go-ahead touchdown with 25 seconds left to give Kingman Academy High a Homecoming Game victory for the ages Friday at Southside Park, 21-14.
"When I got past their last guy, I thought, 'this is the game,'" Tibbetts said. "It was all slow motion. This is what happens when you pressure the quarterback."
Walker Glass and Jordan McDowell-Seybert got to Johnson, who hurried his throw into Tibbets' waiting arms. Tibbetts wanted nothing to do with being called a Homecoming Hero.
"The Homecoming Hero is the team," the senior said. "There's never one hero in high school football."
KAHS coach Dan Stroup has been around high school football for nearly 30 years, and this victory reminded him why he coaches the game.
"I feel like a gopher in soft dirt," the coach said. "This is what high school football is all about. We do it for these type of victories, and the kids were awesome."
It was a fourth quarter that should be archived into prep football history.
No. 14 Sedona (4-2, 1-1) scored on a 26-yard pass play with less than nine minutes remaining to take a 14-7 lead. Academy then went three-and out, but the Tiger defense forced the Scorpions to punt.
Academy wide receiver Chris Pfeifer pulled off a juggling act with 3:33 left when he batted the ball up in the air twice, pulled the ball in and fell into the end zone for a 49-yard touchdown pass from quarterback Will Herbine that tied the game, 14-14.
Prior to the Tibbetts interception, Academy had marched down to the Scorpion 22, but an intercepted in the end zone ended that threat. The return went for 44 yards, and Sedona looked to be in business with 1:46 left. The Scorpions got to the Tiger 28 when the interception occurred.
Twice in the first half, the Academy moved the ball inside the Scorpion 30 but came up empty. That changed with 24 seconds left in the second quarter, when Chy Banda broke through up the middle for a 12-yard touchdown run to give the Academy the lead at intermission, 7-0. Sedona did not get a first down in the opening two quarters until its final drive of the half that ended at the Tiger 15.
"Our defense rocked," Stroup said. "They had eight possessions that ended in three-and-outs or less. Our defensive kids ran hard."
McDowell-Seybert led the Academy rushing attack with 62 yards on 12 carries. The Tigers ran for 173 as a team. Herbine completed 6-of-19 passes for a touchdown and an interception. Robby Glass caught four those six passes for 47 yards.
Stroup said it was the play of defensive end Colton Bradley that held Sedona in check.
"Bradley had six total tackles, a deflected pass and two special teams tackles," the coach said. "He played perfectly by doing his job and running interference so the other guys could make their plays."
The No. 22-ranked Tigers host Camp Verde (1-5, 0-2) in a Section II game Friday at Southside Park. Camp Verde lost to No. 9 Lee Williams (5-1, 3-0) Friday, 27-0.