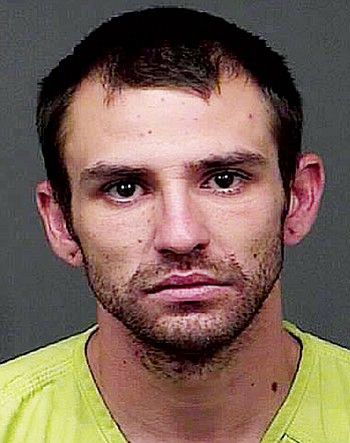 Originally Published: October 6, 2014 6 a.m.
KINGMAN - Mohave County Public Defender Harry Moore filed court documents Friday afternoon seeking money for a mental health evaluation for Justin James Rector, the Bullhead City man accused of murdering an 8-year-old girl Sept. 2.
Moore left no doubt his motive is to convince Mohave County Attorney Matt Smith not to seek the death penalty.
"The Mohave County Attorney's Office has notified defense counsel that it is contemplating filing a Notice to Seek Death Penalty in this case," wrote Moore. "The prosecutor has invited the defense to proffer any proposed mitigation in an effort to dissuade it from filing the notice."
Moore seeks $10,000 in expert witness funds, money that would be used to hire a mental health expert and to obtain Rector's medical and mental health records.
Moore said he has "already determined" Rector suffers with mental health issues. He also indicated the $10,000 requested is potentially one of many he will make as the case progresses - particularly if the county pursues the death penalty.
Rector stands accused of killing Isabella "Bella" Grogan-Cannella sometime after midnight on Sept. 2. Her body was found in a shallow grave in a wash about a half-mile from her Lakeside Drive home the following afternoon.
Witnesses provided a description of a man seen leaving the scene that matched Rector, a "family friend" of the victim's mother and stepfather who was one of several people living in the home.
According to several reports, Grogan-Cannella and her 10-year-old sister were playing hide-and-seek with Rector. The older girl went to the restroom, and when she returned Rector and the girl were gone.
Other adults in the home, including Grogan-Cannella's mother, left the home that night at about midnight, reportedly to shop at Walmart. Her step-grandmother was upstairs.
Grogan-Cannella's body was naked from the waist down. The Mohave County Medical Examiner said she was strangled. Authorities have not commented on whether she was sexually abused.
Rector's shoes were allegedly found near the girl's body. His shirt was allegedly found along Highway 95 and he was arrested near the Bullhead City Walmart.
The Mohave County Grand Jury indicted Rector in September on charges of first-degree murder, kidnapping, child abuse and abandonment of a body. He is being held without bond and will next appear in court for a hearing set for Oct. 28, provided Judge Lee Jantzen doesn't schedule a hearing sooner to discuss Moore's request for funds.
The last death penalty case prosecuted in Mohave County involved Darrell Ketchner, who was sentenced to the ultimate punishment on March 25, 2013. He was convicted of stabbing to death 18-year-old Ariel Allison and the brutal attempted murder of her mother - and his longtime girlfriend - Jennifer Allison on the Fourth of July, 2009.
Judge Rick Williams sentenced Ketchner to death plus an additional 57 years.
Click for home delivery with comics, grocery deals, inserts, TV listings, coupons and more