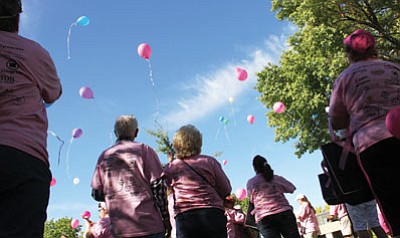 Originally Published: October 7, 2014 6 a.m.
KINGMAN - The annual Kingman Cancer Care Unit Walk a Mile in Their Shoes event was held Saturday morning in downtown Kingman.
Starting at the historic Bonelli House, about 100 walkers proceeded along footprints representing cancer patients for a mile downtown, led by the Kingman Police Department "Pink Heals" police car driven by Kingman Police Chief Robert DeVries with Mayor Janet Watson.
There was also a balloon release (top) in honor of those who have battled cancer.
Several local businesses and organizations helped sponsor the event. All proceeds go to the Kingman Cancer Care Unit, which helps cancer patients here in Kingman.
At bottom, Isabel Lopez, 5, and Milla, a Jack Russel Terrier, were dressed for the occasion.