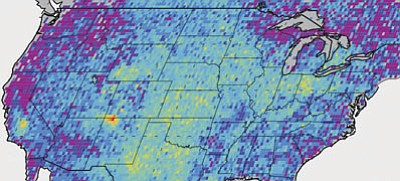 Originally Published: October 9, 2014 6:24 p.m.
WASHINGTON (AP) - A surprising hot spot of the potent global-warming gas methane hovers over part of the southwestern U.S., according to satellite data.
That result hints that U.S. Environmental Protection Agency considerably underestimates leaks of methane, which is also called natural gas.
Within that hot spot, a European satellite found atmospheric methane concentrations equivalent to emissions of about 1.3 million pounds a year. That's about 80 percent more than the EPA figured. Other ground-based studies have calculated that EPA estimates were off by 50 percent.
Study lead author Eric Kort, a University of Michigan atmospheric scientist, said the methane likely comes from leaks as workers extract natural gas from coal beds, and not from hydraulic fracturing, called fracking, because the data were collected before fracking really caught on.
The new study, done by NASA and the University of Michigan, was released Thursday by the journal Geophysical Research Letters.