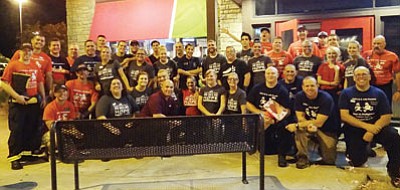 Originally Published: October 10, 2014 6:02 a.m.
KINGMAN - Mohave County law enforcement officers earned more tips than firefighters did during a recent fundraiser to benefit St. Jude's Children's Research Hospital hosted by Chili's Restaurant in Kingman.
Officers and fire personnel waited on customers, who donated nearly $2,150 to police and nearly $1,700 to firefighters for a total close to $3,900.
In the photo, those in red shirts represent the Kingman , Northern Arizona Consolidated and Golden Valley fire departments.
Those in blue shirts represent the Mohave County Sheriff's Office, Kingman Police and the Arizona Department of Public Safety.
Chili's servers assisted both groups with the annual fundraiser.