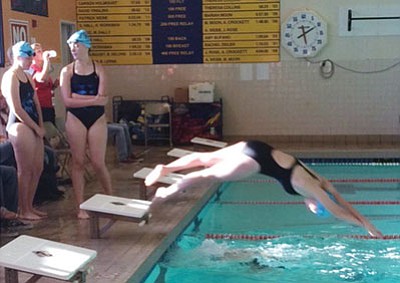 Originally Published: October 12, 2014 6 a.m.
KINGMAN - The Lady Tigers came through for Kingman Academy High to record their first-ever swim meet win by defeating Kingman, River Valley and Bullhead City MALC Thursday in the Del E. Webb Fitness Center.
Academy won with 108 points, the Lady Bulldogs were second (103), River Valley third (33) and MALC (10) fourth.
"Everyone on the team earned a first place," said KAHS coach Teri Rose. "I think that is awesome."
The Lady Tigers had only five swimmers to combine for the win: Kayleigh Wright, Victoria Depner, Sofia Depner, Stasi White and Haley Freeman. This group picked up eight of the 11 firsts in the meet, including relays. Sofia and Victoria Depner each had four wins, White and Wright had three, and Freeman tallied one.
Kingman's Jessica Jablonski and Meghan Yingling picked up two wins, and Danielle Ashford and Shayla Rivera each earned one.
River Valley edged out Kingman in the boys meet, 96-95. MALC was third with 29, and Academy came in fourth (41).
Tyler Julle won the 100-yard butterfly for the Bulldogs. Joel Harnish came in first in the 200 individual medley, and Jake Miyauchi won the 100 backstroke for the Academy.