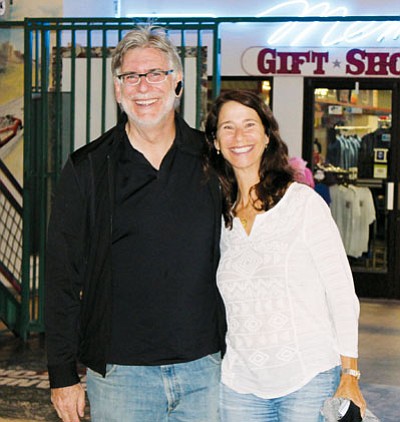 Originally Published: October 12, 2014 6 a.m.
KINGMAN - Michele Levin and Bob Marrazzo walked into the Powerhouse Museum and Visitor Center at 3:18 p.m. Wednesday and were officially greeted as the 100,000th guest of the year, an event that took place two months earlier than in 2013.
The couple was visiting from Palm Harbor, Fla., on their way from Las Vegas to the Grand Canyon and traveling Route 66.
"They were looking for something about Route 66 and picked up an Arizona 66 Passport," said Diane Silverman, who runs the gift shop at the Powerhouse.
Josh Noble, president and chief executive officer of the Kingman Visitor Center, said it was a "big deal" last year when the 100,000th visitor came through the building in late December. It was the first time that number had been reached since 2008.
Kingman's visitor count has increased about 15 percent from a year ago. Factoring in the International Route 66 Festival in August, the increase is closer to 17 percent, Noble estimated.
About 2,600 people came into the Powerhouse during the four-day festival. Taking out that number, the visitor center was logging about 500 guests a day through August, so the 100,000th visitor would have still come through in October, Noble said.
Roughly one in 20 visitors to Kingman enter the Powerhouse Museum. Extrapolating from the projected 118,000 people who will stop in by the end of the year, that would be somewhere between 2.2 million and 2.3 million visitors overall.
Two-thirds of Kingman visitors are headed to the Grand Canyon or Las Vegas, but Route 66 is gaining ground. Mother Road appeal is ever growing into markets such as China, Russia and Mexico, Noble said.
"Just a few years ago, I'd mention the famous highway at trade shows and tour operators from these markets would look at me with a blank face," the tourism director said. "But now they're seeing it and have a reason to stop in Kingman."
Noble said he's hosting nine journalists from Germany on a media tour next week. They'll be staying at El Trovatore motel and eating at the Dambar Steakhouse.
A follow-up meeting on the Route 66 festival drew interest in holding a similar event next year on more of a local community level, he noted.
Noble cited several reasons for the uptick in Kingman visitors. For one, the government shutdown hurt tourism at the Grand Canyon last year. Also, the economy is coming back and the visa waiver program has made it easier for international travel.
"We've definitely seen more international traffic," he said.
September was the first time in seven years he'd seen a guest from all 50 states register at the visitor center.
Click for home delivery with comics, grocery deals, inserts, TV listings, coupons and more