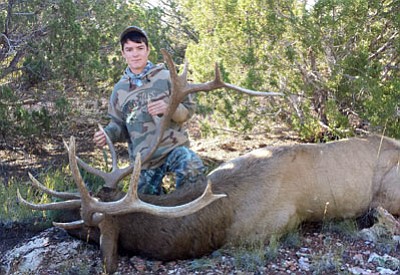 Originally Published: October 14, 2014 5:59 a.m.
KINGMAN - Hunter Allen is just 14 years old, but he is already a veteran when he comes to elk hunting.
In the past, since he has taken and completed the Arizona Hunter Education class, Hunter has been the recipient of three elk tags.
His first tag was in the multi-hunt units of 15A-15B, and 18A, and that year, like a lot of sportsmen, he was unsuccessful in filling the tag.
Then he drew an any elk tag for the same units and that time, he filled his tag when he bagged a cow elk. Remember that these hunts are called limited opportunity hunts where elk sightings are few and far between.
This year he was one of the 25 tag holders who drew an early rifle bull tag in the same multi-unit.
Hunting with his father, Calvin, who is an accomplished hunter himself, Hunter said that they talked to a few close friends of theirs, who gave them some ideas on areas to check for bulls.
Because of school, Hunter would only have a limited amount of time to hunt. Hunter is a freshman at the Kingman Academy of Learning High School.
On the evening before the hunt opened, Hunter and his father were scouting and they saw one bull.
On opening morning they were out at dawn, moving from spot to spot and looking and listening for bugling bulls.
Hunter said that the third place they stopped, a bull answered their bugle, so they moved in.
"He actually bugled at us three or four times," Hunter said.
Then Hunter moved in to the trees and soon found the tracks of the lone bull, who was obviously seeking company.
Hunter followed the tracks and soon found that the bull was actually raking a juniper tree with his massive rack that sported seven points on each side.
Bulls rake their antlers during the rut. It is a way that they get themselves fired up during the breeding season. They also rake to remove dried velvet from their antlers.
Hunter said the bull must of heard them walking up to him, because he stepped back and started to walk away.
The bull took a few steps and actually walked out into the open. As he turned to walk away, Hunter took a shot with his 308 rifle.
"The bull was actually quartering away when I shot, but I hit him perfectly," Hunter said.
The bull ran about 35 yards and expired.
Luckily, the fallen monarch was just 300 yards from a road. After taking photos the pair field dressed and packed out the bull.
Hunter says they believe the bull will score about 325 Boone and Crockett points.
They have not decided on whether to do a shoulder mount or a European mount on his trophy.
The hunt was short and sweet, but was done exactly how elk hunters would like all their hunts to go.