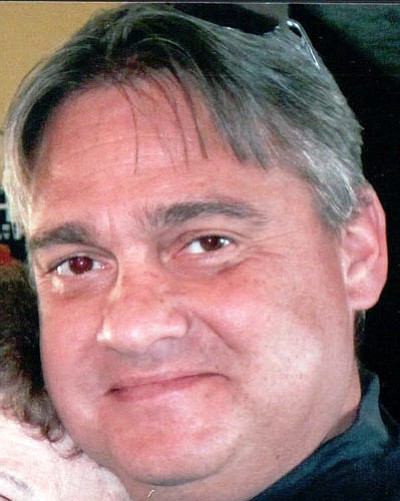 Originally Published: October 15, 2014 6 a.m.
Justin "Chad" Loy was born Nov. 15, 1968, in Decatur, Ill., to Anne (Emel) Loy and Ron Loy.
He lived in Arthur and Westville, Ill., before his family relocated to Kingman in 1978.
He was a graduate of Kingman High School (1986) and Northern Arizona University, where he received a degree in political science.
During his youth, he would often be found hanging with "The Regulars." Chad loved to ride his motorcycle and was an avid hunter and fisherman and loved the out of doors. He had a spirit that could not be contained by walls. Chad passed away at Flagstaff Medical Center on Oct. 8, 2014.
Chad is survived by his wife, Christine (England) Loy; his mother and stepfather, Anne Loy-Tegarden and Charlie Tegarden of Tehacapi, Calif.; his father, Ron Loy of Black Canyon City; his brother, Brad Loy, and Brad's children, Brooke and Brandon, of Phoenix; his grandmother, Dorothy Craig of Sullivan, Ill.; as well as numerous aunts, uncles and cousins, most of whom live in Sullivan and Bethany, Ill.
He was preceded in death by his paternal grandparents, Lawrence and Lois Loy, his maternal grandfather, Bill Emel, and his Aunt Paula Loy.
Chad will be greatly missed by many as he has touched so many lives with his kindness and giving nature. Those who knew Chad know he is walking in the woods with his dogs, finally at peace.
A celebration of life will be held on Thursday, Oct. 16, 2014, at Beale Celebrations beginning at 6 p.m. (corner of 4th and Beale in downtown Kingman). The celebration will be followed by a barbecue, also at Beale Celebrations.
A memorial account has been established at Mohave State Bank in Kingman in the name of Christine Loy.
Donations to help offset the cost of medical care and final expenses are encouraged in lieu of flowers.